Once-Told Tales: An Essay in Literary Aesthetics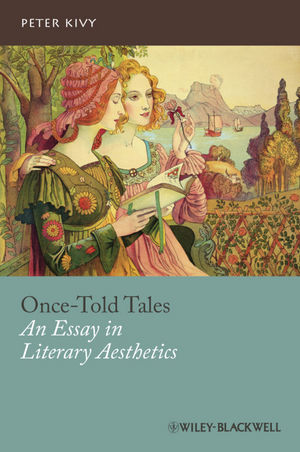 Once-Told Tales: An Essay in Literary Aesthetics
ISBN: 978-1-444-39765-9
Mar 2011, Wiley-Blackwell
216 pages
Description
Drawing comparisons with other art forms, this book examines the role of aesthetic features in silent reading, such as narrative structure, and the core experience of reading a novel as a story rather than a scholarly exercise.
Focuses on the experience of the art form known as the novel
Uses the more common perspective of a reader who reads to be told a story, rather than for scholarly or critical analysis
Draws comparisons with experience of the other arts, music in particular
Explores the different effects of a range of narrative approaches
Preface.
1. What it's All About.
2. The Aesthetics of Literature: A Neglected Topic.
3. The Aesthetic Property: Its Kinds and Its Kind.
4. The Ethical, the Aesthetic, and the Artistic.
5. Structure Aesthetics and Novelistic Structure.
6. Continuous Time and Interrupted Time.
7. Seeing is Believing.
8. Reading is Believing.
9. Twice-Told Tales and More.
Appendix: Paraphrasing Poetry.
References.
Index.
"Kivy is to be warmly commended for the originality and insight of his perspective on literature, and for the lively and engaging manner in which that perspective is developed. Philosophers interested in the complexity and significance of our reading experience will welcome this valuable contribution to our understanding of such matters."  (Notre Dame Philosophical Reviews, 14 February 2012)
"Summing Up: Recommended. Graduate students and above." (Choice, 1 December 2011)