Oncogenomics: Molecular Approaches to Cancer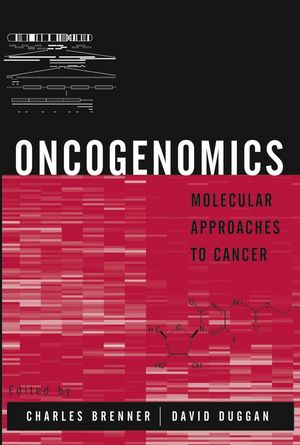 Oncogenomics: Molecular Approaches to Cancer
ISBN: 978-0-471-22592-8 March 2004 412 Pages
Description
This book aims to assemble the only available rigorous, yet broadly accessible introduction to this new and exciting field. Oncogenomics: Molecular Approaches to Cancer is approachable by basic scientists, practitioners, and other health professionals required to familiarize themselves with the tremendous impact of genomics and proteomics on cancer research. Clearly written chapters offer reviews of state of the art topics such as molecular classification, early detection, SNPs in cancer, data mining, tissue microarrays, protein and antibody arrays, and drug targets.
Contributors.
Preface.
Second I: Introduction.
1. At the Precarious Cusp of Oncogenomics (Charles Brenner).
Second II: Molecular Profiling in Cancer: DNA, RNA and Protein.
2. Genome-Wide Searches for Mutations in Human Cancer (Michael R. Stratton, P. Andrew Futreal, and Richard Wooster).
3. Molecular Cytogenetics: Increasing Resolution Using Array-Based CGH (Anne Kallioniemi).
4. SNPs and Functional Polymorphisms in Cancer (Penelope E. Bonnen and David L. Nelson).
5. Expression Profiling of Breast Cancer: From Molecular Portraits to Clinical Utility (Therese Sørlie, Anne-Lise Børresen-Dale, Per E. Lønning, Patrick O. Brown, and David Botstein).
6. Classifying Hereditary Cancers and Phenocopies of Hereditary Cancers Using Expression Arrays (Mary B. Daly, Alicia Parlanti, and David Duggan).
7. Linking Drugs and Genes: Pharmacogenomics, Pharmacoproteomics, Bioinformatics, and the NCI-60 (John N. Weinstein).
8. Tissue Microanalysis: Profiling Cancer Stages (Michael A. Tangrea and Michael R. Emmert-Buck).
9. Proteomic s in Bladder Cancer (Julio E. Celis, Irina Gromova, Fritz Rank and Pavel Gromov).
Second III: Model Systems.
10. Chemical and Genetic Methods to Validate Targets in Nonmammalian Organisms (Tia M. Maiolatesi and Charles Brenner).
11. Mouse Models of Cancer (Debrah M. Thompson, Louise van der Weyden, Patrick J. Biggs, Yeun-Jun Chung and Allan Bradley).
12. Genome-Wide Modifier Screens: How the Genetics of Cancer Penetrance May Shape the Future of Prevention and Treatment (Linda D. Siracusa, Karen A. Silverman, Revati Koratkar, Marina Markova and Arthur M. Buchberg).
Second IV: Molecularly Targeted Drugs.
13. Protein Kinases as Targets in Cancer Therapy: Validated and Emerging Approaches (Paul Nghiem, Yong-son Kim and Stuart L. Schreiber).
14. Ras Superfamily-Directed Compounds (George C. Prendergast).
15. Clinomics: Post-Genomic Cancer Care (Daniel D. Von Hoff, Haiyong Han, and David Bearss).
Part V: Conclusion).
16. Oncogenomics and the NCI Director's Vision for 2015 (Andrew C. von Eschenbach).
Index.
"…has many useful components for both basic scientists and clinicians involved in the application of genomics to an understanding of cancer diagnosis and therapy." (
The Quarterly Review of Biology
, March 2006)
"…this book will be an appreciated resource for cancer researchers along with sophisticated oncologists and other health care providers." (American Journal of Medical Genetics, June 1, 2005)
"...the first of its kind devoted to the genomics of cancer...very good reading...the essence of the book is to bring together scientists from various specialties and share the same language…" (New England Journal of Medicine, October 28, 2004)
"...an excellent source of basic, up-to-date, readable material...in-depth explanations...already looking forward to the next edition..." (British Journal of Cancer Management, Vol 1(1), Summer 2004)