One Mind, Two Languages: Bilingual Language Processing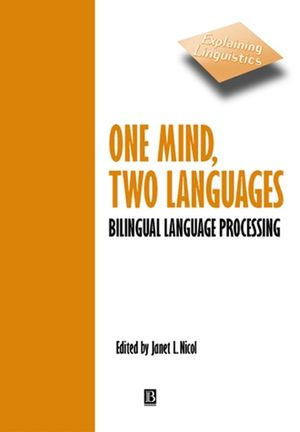 One Mind, Two Languages: Bilingual Language Processing
ISBN: 978-0-631-22098-5 February 2001 Wiley-Blackwell 236 Pages
Description
One Mind, Two Languages surveys current research in language processing - from both linguistic and psycholinguistic perspectives - in individuals who speak more than one language. Such research bears on a broad range of questions relating to whether language can shape thought and what it means to be proficient in a language, as well as formal theories of linguistics and language processing.

The volume focuses on how the multi-language user represents and processes linguistic information. Chapters include an overview of methodological issues in bilingual research, new empirical research, and extensive summaries of relevant past work.

This is an invaluable resource for anyone interested in state-of-the-art research on the status of language processing in bilinguals.
Notes on Contributors.
Preface.
1. The Bilingual's Language Modes: Fran?ois Grosjean (NeuchOtel University).
2. The Voicing Contrast in English and Spanish: The Relationship between Perception and Production: Mary L. Zampini and Kerry P. Green (both at University of Arizona).
3. The Development of Conceptual Representation for Words in a Second Language: Judith F. Kroll and Natasha Tokowicz (both at Pennsylvania State University).
4. The Nature of the Bilingual Lexicon: Experiments with the Masked Priming Paradigm: Kenneth I. Forster (University of Arizona) and Nan Jiang (Auburn University).
5. Explaining Aspects of Codeswitching and Their Implications: Carol Myers-Scotton (University of South Carolina) and Janice L. Jake (Midlands Technical College).
6. Production of Verb Agreement in Monolingual, Bilingual and Second-Language Speakers: Janet L. Nicol, Matthew Teller and Delia Greth all University of Arizona).
7. A Theory of Syntactic Interference in the Bilingual: Montserat Sanz (Kobe City University of Foreign Studies) and Thomas G. Bever (University of Arizona).

8. Sentence Parsing in Fluent Spanish-English Bilinguals: Paola E. Dussias (University of Illinois).
9. Print as a Primary Source of English for Deaf Learners: Samuel J. Supalla (University of Arizona), Tina R. Wix and Cecile Mckee (University of Arizona).
References.
Index.
"This volume provides an excellent illustration of an increasingly sophisticated and delicate body of research tackling diverse issues in bilingualism and second language acquisition. Janet Nicol and her colleagues have done the field a valuable service."
Dianne C. Bradley, CUNY Graduate Center
"This book will be an excellent resource for the many cognitive scientists interested in the study of the psychology of bilinguals, which has deep implications for language education as well as for gaining an understanding of the relation between language and thought. Mary C. Potter, Massachusetts Institute of Technology

"This edited volume contains detailed, substantive, theoretical, and research pieces by major figures in both the fields of bilingualism/second language learning and of language processing. It is an outstanding, highly recommended resource for any researcher/scholar interested in how the bilingual mind works." David Swinney, University of California, San Diego

"This volume which aims at advanced students of billingualism and the scholars in the fields of bilingualism and cognitive science, constitutes an excellent resource for all those interested in particularities of bilingual language processing and production in such diverse areas as phonology, morphosyntax, lexicon, and orthography. The chapters are written by leading authorities in the fields of linguistics, bilingualism, psycholinguistics, and cognitive psychology, and constitute up-to-date theoretical and empirical treatments of the respective issues." Dr. Aneta Pavlenko, Temple University, for ABES, a computerized annotated international database edited by Sweits & Zeitlinger Publishers, Netherlands.

"One Mind, Two Languages constitutes an excellent summary of current issues in bilingual language processing that engages the reader with the different areas that encompass this field. The most important feature of this book is the connectedness between the chapters and the resulting cohesiveness of the book. The editor must be credited fully for this first rate ensemble on bilinguialism." Journal of Sociolinguistics
Surveys current research in language processing from both linguistic and psycholinguistic perspectives.


Includes new empirical research and extensive summaries of relevant past work.


Written by leading experts in the field.