Onium Ions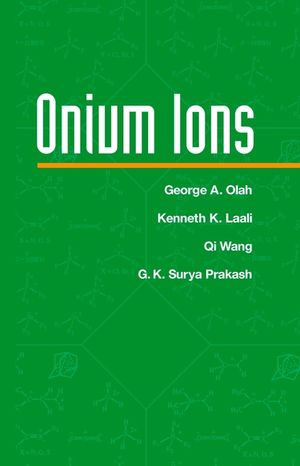 Onium Ions
ISBN: 978-0-471-14877-7
Aug 1998
528 pages
Description
Comprehensive and up-to-date coverage of onium ions-an indispensable reference for academic and industrial chemists

In Onium Ions, Nobel Prize-winning chemist George Olah joins forces with coauthors Kenneth Laali, Qi Wang, and G. K. Surya Prakash to offer an in-depth look at the chemistry and reactions of these important electron-deficient compounds. While other texts have covered various individual types of onium ions, this work addresses the structure and chemistry of numerous different classes of onium ions. Contents include:
* Discussions of well-established classes of onium ions, such as azonium, oxonium, sulfonium, selenonium, telluronium, and phosphonium ions.
* Coverage of more recent types, from siliconium, halonium, and carbonium to carboxonium, carbosulfonium, and carbazonium ions.
* Clear explanations of definition, classification, preparation, and chemistry of each major group of onium ions.
* An exploration of superelectrophilic activation of onium ions through contact with superacid media.

Enriched with numerous illustrations and a full listing of references for each chapter, Onium Ions should be a staple text in the professional chemist's library.
Azonium Ions.

Oxonium Ions.

Sulfonium, Selenonium, Telluronium Ions.

Phosphonium and Arsonium Ions.

Halonium Ions.

Carboxonium, Carbosulfonium and Carbazonium Ions.

Carbonium Ions.

Siliconium Ions.

Onium Dications.

Index.