Online Activities for Kids: Projects for School, Extra Credit, or Just Plain Fun!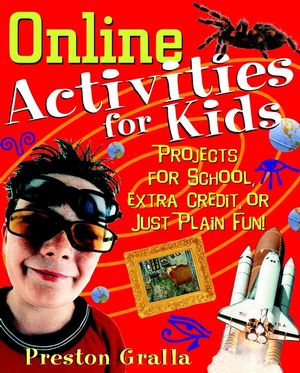 Online Activities for Kids: Projects for School, Extra Credit, or Just Plain Fun!
ISBN: 978-0-471-39073-2
Dec 2001
256 pages
Description
Surf your way to fun-filled adventure and school success in cyberspace!

Want to join in the search for real-life aliens, take a virtual trip into the eye of a hurricane, and learn magic as you master mathematics? With Online Activities for Kids, the fun never stops and the learning just comes naturally. Where else can you build research skills while creating a family Web page, or learn about world geography while going on an Internet treasure hunt? Take a journey on the Underground Railroad. Turn your room into a world-class art museum. Build a dinosaur from fossils. This easy-to-use, step-by-step guide is bursting with imaginative projects like these and many more, including:
* Design your own roller coaster
* Relive a day in the life of a Civil War soldier
* Write a letter in a language you don't even speak
* Find out how much you'd weigh on Jupiter
* Write haiku poetry
* And much, much more . . .


With Online Activities for Kids, you'll have a great time exploring the Internet, and you'll amaze everyone with your fabulous projects and super cybersurfing skills.
Acknowledgments.

Introduction.

Part I: SCIENCE.

1. Wild and Crazy Science.

2. Home Science Museum.

3. Blast Off!

4. Calling All Aliens.

5. Life on Mars?

6. Moon Log.

7. Shuttle Mission.

8. Your Age and Weight onOther Planets.

9. Secrets of theDinosaurs.

10. Fossil Puzzle.

11. Dinorama.

12. Incredible Journey.

13. Yucky Science Quiz.

14. Plant Life Mystery.

15. Food, Glorious Food.

16. Virtual Frog.

17. Endangered Species.

18. Save the Whales!

19. Tracking Earthquakes.

20. Volcanic Eruption.

21. Hurricane Hunter.

22. Weather Expedition.

Part II: MATH.

23. Play Ball!

24. Hoop it Up!

25. Who Wants to Be a Millionaire?

26. Take Stock.

27. Price Check!

28. Ancient Computer.

29. Hieroglyphic Math.

30. Boggle Your Mind.

31. How Many?

32. Mathemagician.

Part III: SOCIAL STUDIES.

33. Explore UnchartedTerritories.

34. Oh Pioneers!

35. Picture U.S. History.

36. The Real Pocahontas.

37. Who Was That President?

38. The British Are Coming!

39. Escape to Freedom!

40. Civil War Journal.

41. Who Has Lived in the White House?

42. Make a Difference.

43. Internet Chanukah.

44. Kwanzaa Fun.

45. Master Chef.

46. International Games Day.

47. Family Web Site.

48. Write Like an Egyptian.

Part IV: LANGUAGE ARTS.

49. Washington Correspondent.

50. Extra! Extra!

51. Haiku Helper.

52. Poetry Showcase.

53. Windows on the World.

54. Kid Authors.

55. What s the Story?

56. Never-Ending Story.

57. Homeroom Homepage.

58. Puzzle Master.

59. Handspeak.

60. Bonjour and Hello!

Part V: GEOGRAPHY AND TRAVEL.

61. Destination D.C.

62. Virtual Paris.

63. From Here to There.

64. State Pride.

65. Eye in the Sky.

66. Buried Treasure.

Part VI: ARTS AND MUSIC.

67. Art Exhibit.

68. Modern Art.

69. Art Safari.

70. Cave Art.

71. Origami Swan.

72. Castles on the Web.

73. That s Grotesque!

74. Making Money.

75. Be Puzzled.

76. Puppet Master.

77. Make Beautiful Music.

78. Make Your PC Sing!

Glossary.

Index.