Online Communities: Designing Usability and Supporting Sociability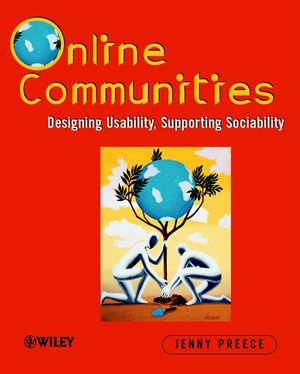 Online Communities: Designing Usability and Supporting Sociability
ISBN: 978-0-471-80599-1
Oct 2000
468 pages
Description
The purpose of the book is to set up a framework for discussions on social and technical issues of online communities. Designing usability and supporting sociability lays a solid foundation on which online communities can grow and thrive. Intended for both students and computer professionals, the book addresses the development of new online communities as well as the improvement of existing ones. It is divided into two parts - Getting Acquainted with Online Communities and Developing Online Communities - along with a preface and a concluding chapter which explores the future of online communities. For sample chapters and other resources, please check out the web site for the book at:

http://www.clis.umd.edu/people/preece/
Foreword.

Preface.

GETTING ACQUAINTED WITH ONLINE COMMUNITIES.

Introduction.

Community Tours.

Sociability: Purpose, People, and Policies.

Usability: Tasks, Users, and Software.

Research Speaks to Practice: Interpersonal Communication.

Research Speaks to Practice: Groups.

DEVELOPING ONLINE COMMUNITIES.

Community-Centered Development.

Selecting Software.

Guidelines: Sociability and Usability.

Assessing Needs and Evaluating Communities.

Development Case Studies.

Looking to the Future.

References.

Index.
"provides a good balance between theory and practise"   (Software Focus, December 2001)
"I like the slightly zany drawings"  "People will say I wish I'd had this book before now"."   (Computer & Education, No. 36, 2001)
"…an excellent book…my best recommendations…" (Jnl of Computing and Information Technology, March 2003)
The goal of this book is to help developers (both professional and amateur) bring together people with mutual interests and concerns, be they business-related, health, educational, or cultural. The unique writing style of the author lends to making the technical topics very fascinating to read.
Emphasis is on design and evaluation of effective communities.
Underlying analysis of what enabling technologies can do and what they should do.