Online Dating For Dummies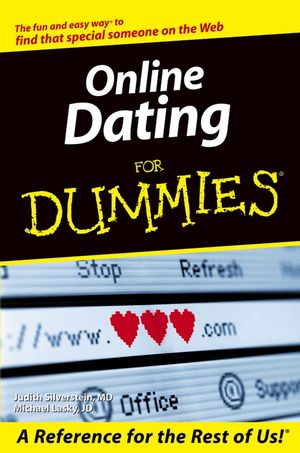 Online Dating For Dummies
ISBN: 978-1-118-05343-0
Mar 2011
312 pages
Description
Chances are, you've heard about Internet dating from a friend, or an online banner ad has caught your eye. If you've given online dating a passing consideration, you may have some fears from all those graphic horror stories that jar your senses – and your sensibilities. Or you may think that meeting people via the Internet is only for the disenfranchised or socially unskilled.

From their own experiences, 20 million people can tell you otherwise. Online Dating For Dummies will get you off the fence and on the Internet dating path – with the skill of a seasoned pro. Like your best friend, this fun reference will give you the straight scoop on
Gearing up with the right computer hardware
Overcoming preconceived notions of who is online
Talking the online lingo
Enjoying conversation in chat rooms
Considering date site options
Establishing your screen identity
Facing the consequences of not posting a photo
Internet dating is growing at double-digit rates every year, while other forms of finding a connection are flat or falling off. Internet dating, although far from perfect, is becoming the most effective and efficient method of getting introduced to a large number of available singles. Online Dating For Dummies shows you how to get your feet wet and how to dive in, making informed choices and exercising good judgment as you
Sign up for a trial run on a dating site
Try to describe yourself for your personal profile
Initiate your first e-mail contact
Make your first in-person meeting memorable
Identify frauds and players
Figure out what not to do if you really want to meet someone
Jumping into online dating with no preparation at all is possible – but not practical. If you follow the techniques in this friendly guide, your odds of meeting great potential matches will greatly improve, and you'll have far more fun in the process.
Introduction.
Part I: Making Online Dating Work for You.
Chapter 1: The Magic of Online Dating.
Chapter 2: Considering the Alternatives to Online Dating.
Chapter 3: Maximizing Your Ability to Connect Online.
Part II: So Many Online Dating Sites, So Little Time.
Chapter 4: Wheeling and Dealing: Dating Site Cost Options.
Chapter 5: Spotting the Differences from Site to Site.
Chapter 6: A Tour of the Sites: Your Inside Guide.
Part III: Jumping Aboard for the Online Time of Your Life.
Chapter 7: Signing Up for a Trial Run.
Chapter 8: Establishing Your Screen Identity.
Chapter 9: Yeah! Multiple-Choice Questions.
Chapter 10: Yikes! The Essay Questions!
Chapter 11: Dealing with Matters of Sex.
Chapter 12: Selecting the All-Important Photo.
Part IV: Initiating Contact: You've Got Mail.
Chapter 13: Getting Matched Up.
Chapter 14: Exchanging E-mails.
Chapter 15: Understanding E-mail and E-mail Etiquette.
Chapter 16: Rejection!
Chapter 17: Going from Virtual to Real Contact.
Part V: Skirting the Hazards of Online Dating.
Chapter 18: Safety First.
Chapter 19: Unmasking and Avoiding Frauds and Players.
Chapter 20: Special Circumstances: Big Cities, Small Towns, and Long-Distance Relationships.
Part VI: The Part of Tens.
Chapter 21: Ten Ways to Screw Up Online Dating.
Chapter 22: Ten Ways to Succeed at Online Dating.
Index.
""...covers strategies for success, including how to choose an agency, respond to potential dates and cultivate a relationship on-line..."" (Aberdeen Press & Journal, Dec 03)