Online Education For Dummies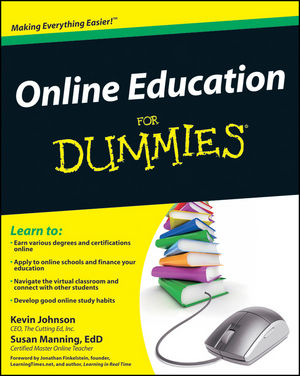 Online Education For Dummies
ISBN: 978-0-470-59576-3
Dec 2009
360 pages
Product not available for purchase
Description
From admission to graduation-your personal guide to studying online
Online Education For Dummies explains the ins and outs of attending a virtual classroom, and provides you with the tools you need to hone your skills or obtain additional certification and degrees. This practical reference not only helps you get the most out of an online course, but also offers a wealth of advice to help you pick the one that matches your interests and needs.
Identifies the software and hardware needed to study online
Reveals how to get financial aid, transfer credits, and manage online time
Explains how to locate legitimate online programs and avoid scams
Whether you want to earn a degree or just increase your knowledge through an online course, Online Education For Dummies is the only guide you need.
Foreword.
Introduction.
Part I: Introducing a Different Kind of Classroom.
Chapter 1: Heading Online for Your Education.
Chapter 2: The Traits and Benefi ts of Online Education.
Chapter 3: The Technology and Technological Skills You Need to Succeed.
Part II: Preparing to Be a Student.
Chapter 4: Discovering What's Available Online.
Chapter 5: Doing Your Homework: Evaluating Schools.
Chapter 6: Applying to School and Securing the Cash.
Chapter 7: Getting Accepted and Prepping for Class.
Part III: The Virtual Classroom: Being an A+ Student.
Chapter 8: Navigating the Classroom.
Chapter 9: Meeting the People in (And around) Your Classroom.
Chapter 10: Communicating Clearly Online.
Chapter 11: Developing Good Study Habits for Online Courses.
Chapter 12: Getting a Handle on Group Dynamics.
Chapter 13: Understanding Netiquette and Ethical Behavior.
Chapter 14: Finishing and Submitting Your Assignments.
Chapter 15: Transitioning after School.
Part IV: Special Considerations in Online Education.
Chapter 16: Educating Students from Kindergarten through High School.
Chapter 17: Connecting with International Students.
Chapter 18: Accessibility in Online Education.
Part V: The Part of Tens.
Chapter 19: Ten Myths about Online Education.
Chapter 20: Ten Nationally Recognized Online Schools.
Index.