Only Yesterday: An Informal History of the 1920's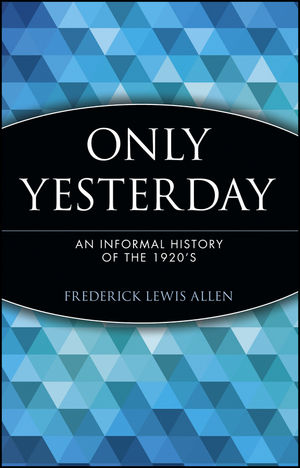 Only Yesterday: An Informal History of the 1920's
ISBN: 978-0-471-18952-7 September 1997 304 Pages
Description
Written in 1931, this new installment in the Wiley Investment Classics series offers a well-written historical and anecdotal account of the volatile stock market of the 1920s. It traces the rise of post World War I prosperity up to the crash of 1929 before a colorful backdrop that includes Al Capone, Prohibition, the first radio, and the rise and fall of the skirt length.
Prelude: May, 1919.

Back to Normalcy.

The Big Red Scare.

America Convalescent.

The Revolution in Manners and Morals.

Harding and the Scandals.

Coolidge Prosperity.

The Ballyhoo Years.

The Revolt of the Highbrows.

Alcohol and Al Capone.

Home, Sweet Florida.

The Big Bull Market.

Crash!

Aftermath: 1930-31.

Appendix.

Index.