Onychomycosis: Diagnosis and Effective Management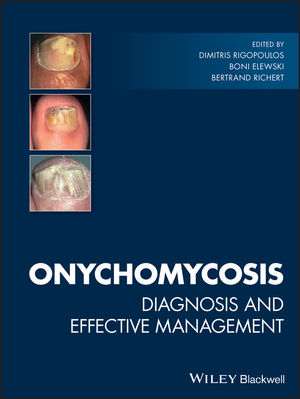 Onychomycosis: Diagnosis and Effective Management
ISBN: 978-1-119-22650-5 May 2018 Wiley-Blackwell 232 Pages
Download Product Flyer
Download Product Flyer
Download Product Flyer is to download PDF in new tab. This is a dummy description. Download Product Flyer is to download PDF in new tab. This is a dummy description. Download Product Flyer is to download PDF in new tab. This is a dummy description. Download Product Flyer is to download PDF in new tab. This is a dummy description.
Description
The definitive guide to one of the world's most prevalent dermatologic conditions
Onychomycosis is a fungal nail disease that accounts for 40% of all nail disorders, affecting 1 out of 10 people at some stage in their lives. Compiled by leading dermatologists with expert knowledge of the condition, Onychomycosis: Diagnosis and Effective Management provides a clear and clinically focused reference tool for those looking to treat patients expediently and successfully.
This in-depth guide covers all aspects of disease management, from differential diagnosis and lab analysis to topical and systemic treatments. Designed to be a functional and accessible resource, the text also highlights key learning points, with real-life case studies and helpful take-home messages included in each chapter. Coverage of recent innovations and cutting-edge methods ensure the content is relevant to today's dermatologists, while thorough explanations of routine techniques, prognostic factors, and epidemiology make this is an excellent handbook for anyone studying the disease for the first time. The book features:
A complete guide to the diagnosis and treatment of this common disorder
Key learning points, case studies, and take-home messages to aid quick and easy consultation
Insights from world-renowned dermatological experts from North America and Europe
Over 70 illustrations
Onychomycosis is a reliable, easy-to-use companion for trainees and experienced specialists alike, and an invaluable asset to any clinic treating nail conditions.
Table of contents
List of Contributors vii
1 The History of Onychomycosis 1
Bárður Sigurgeirsson
2 Epidemiology of Onychomycosis 13
Mahmoud A. Ghannoum, Iman Salem, and Luisa Christensen
3 Tinea Pedis and Onychomycosis 21
David de Berker
4 Clinical Features: Classification 31
Roderick J. Hay
5 Grading Onychomycosis 41
Anna Q. Hare and Phoebe Rich
6a Routine and Emerging Techniques in Onychomycosis Diagnosis
Shari R. Lipner, Richard K. Scher, and Adam I. Rubin 47
6b Histopathology of Onychomycosis 60
Josette André
6c Dermoscopy in the Diagnosis of Onychomycosis 66
Bianca Maria Piraccini, Aurora Alessandrini, Francesca Bruni, and Michela Starace
7 Differential Diagnosis of Onychomycosis 75
Dimitris Rigopoulos and Bertrand Richert
8 Predicting the Outcome of Treatment: Prognostic Factors 83
Bárður Sigurgeirsson
9a Topical Therapies for Onychomycosis 103
Casey Wang, Theresa Canavan, and Boni Elewski
9b Systemic Treatment of Onychomycosis 118
Austin John Maddy and Antonella Tosti
9c(i) Laser Devices in the Treatment of Onychomycosis 123
Dimitris Rigopoulos, Christos Prevezas, and Ioanna Triantafyllopoulou
9c(ii) Photodynamic Therapy (PDT) in the Treatment of Onychomycosis 133
Elena Sotiriou and Dimitris Ioannides
9c(iii) Onychomycosis and Iontophoresis 141
Avner Shemer
9c(iv) Nail Drilling 146
Pauline Lecerf
9d Physical Treatment of Onychomycosis 150
Bertrand Richert
9e Onychomycosis: Algorithm 160
Bertrand Richert
9f Prevention of Relapse and Re‐Infection: Prophylaxis 162
Eckart Haneke
10 Future Treatments for Onychomycosis 173
Aditya K. Gupta and Sarah G. Versteeg
11 Onychomycosis in Special Populations 187
Nilton Di Chiacchio and Nilton Gioia Di Chiacchio
12 Onychomycosis: The Podiatric Physician Perspective 197
Lauren Dabakaroff, Tyrone A. Mayorga, and Bryan C. Markinson
13 Home Remedies for Onychomycosis 207
Jane S. Bellet and C. Ralph Daniel, III
Index 213
Reviews
**Description**
Onychomycosis probably has more "treatments" than virtually any other dermatological condition. Why? Because there isn't any one treatment that is 100% effective or even works the majority of the time, even when using it for a year! Fungal nail infections are inherently frustrating to cure and have always been a difficult and often impossible endeavor for dermatologists. This book covers every imaginable treatment, including those with little supporting data (the authors state this when it applies).
**Purpose**
The purpose is to educate dermatologists on all current approaches that are available for treating onychomycosis. Limitations and risks of each therapy are reviewed.
**Audience**
The audience is dermatologists.
**Features**
Laser, topical, and systemic medications, surgery, and home topical remedies are all discussed. There are numerous photographs, but, unfortunately, most are not in color. There is a therapeutic algorithm for guiding readers in choosing a reasonable treatment path based on clinical presentation and prior drugs used.
Tables listing criteria for a surgical approach, oral antifungal medications, and predisposing medical illness that contribute to making clearance more problematic are helpfully included. There are photographs showing clinical appearance of infected toenails from different dermatophtyes and nondermatophyte molds. Tips for using the dermatoscope for confirming onychomycosis are discussed. Surgical debridement is covered in detail. One would be able to perform the procedure after reading the book.
**Assessment**
This is the definitive book on diagnosing and treating onychomycosis. The latest research and practical expertise from experts specializing in onychomycosis are neatly presented in one package. Other books do not cover the subject as extensively -- onychomycosis is generally tacked on as a chapter in a nail disorder book.
Patricia Wong, MD, Stanford University Medical Center
Doody's Review Service