Open Leadership: How Social Technology Can Transform the Way You Lead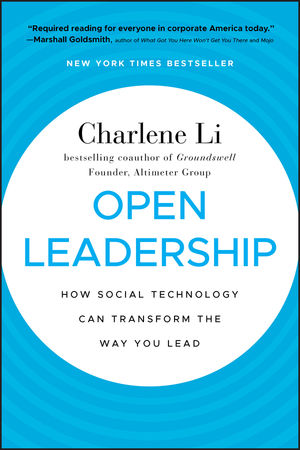 Open Leadership: How Social Technology Can Transform the Way You Lead
ISBN: 978-0-470-63671-8
Apr 2010, Jossey-Bass
336 pages
Description
An essential guide for leaders who want to use social media to be "open" while maintaining control
"Be Open, Be Transparent, Be Authentic" are the current leadership mantras-but companies often push back. Business is premised on the concept of control and yet the new world order demands openness-leaders do not know how to be open and be in control. This must-have resource will help the modern leader understand how to lead in the new open world-where blogging, twittering, facebooking, and digging are becoming the norm. the author lays out the steps that leaders must take to transform their organizations and themselves into being "open" -and exactly what that will mean.
Shows how to use social media to become an open organization
Offers basic advice for leaders who are adapting to the new era of openness in the marketplace
The author Charlene Li is one of the foremost experts on social media and technologies
In easy-to-understand language, this book will help leaders orient themselves to social networking and other technological advances.
Introduction.
I The Upside of Giving Up Control.
1 Why Giving Up Control Is Inevitable.
2 The Ten Elements of Openness.
II Crafting Your Open Strategy.
3 Determining How Open You Will Be.
4 Understanding and Measuring the Benefits of Being Open.
5 Structuring Openness with Sandbox Covenants.
6 Orchestrating Your Open Strategy.
III Open Leadership: Redefining Relationships.
7 Open Leadership: Mind-sets and Traits.
8 Nurturing Open Leadership.
9 The Failure Imperative.
10 How Openness Transforms Organizations.
Endnotes.
Acknowledgments.
The Author.
Index.