OpenSUSE 11.0 and SUSE Linux Enterprise Server Bible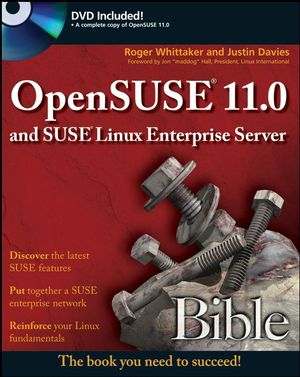 OpenSUSE 11.0 and SUSE Linux Enterprise Server Bible
ISBN: 978-1-118-07998-0
Mar 2011
840 pages
Description
Presenting updated coverage of openSUSE 11.0 and SUSE Linux Enterprise Server 11.0, this reference is written by Novell insiders and boasts the most up-to-date information available
Topics covered include the openSUSE project, command line programs and implementing online services, virtualization, kernel updates, Enterprise Architecture, and more
Reviews Linux fundamentals such as methodologies, partitions, and file system, and features a new section devoted entirely to end-user needs
The DVD includes the openSUSE 11.0
I. SUSE Linux Basics.
1. Installing SUSE.
2. Linux Fundamentals.
3. Partitions, Filesystems, and Files.
II. The SUSE System.
4. Booting the System.
5. Documentation.
6. Understanding Your Linux Network.
7. Logging.
8. The X Window System.
9. Configuring the System with YaST.
III. Using the Command Line in SUSE Linux.
10. Text Manipulation.
11. Text Editors.
12. Working with Packages.
13. Working with Files.
14. Working with the System.
15. Linux Networking.
IV. Implementing Network Services in SUSE Linux.
16. Setting Up a Web Site with Apache Web Server.
17. Mail Servers--Postfix, Sendmail, Qpopper, and Cyrus.
18. Setting Up Windows Interoperability with Samba.
19. Setting Up Printing with CUPS.
20. Configuring and Using DHCP Services.
21. Configuring a DNS Server.
22. Working with NFS.
23. Running an FTP Server on SUSE.
24. Implementing Firewalls in SUSE Linux.
25. Network Information and Directory Services.
26. Setting Up a Web Proxy with Squid.
V. SUSE Linux in the Enterprise.
27. Enterprise Architecture.
28. Emulation and Virtualization.
29. The Kernel.
30. Business Desktop Linux: SLED.
Appendix A. What's on the DVD.