OpenSocial Network Programming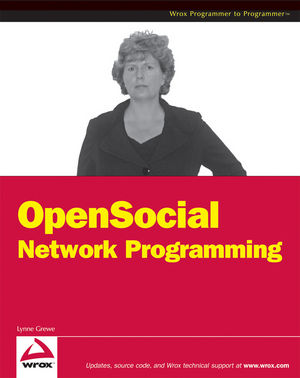 Description
OpenSocial is a set of common application programming interfaces for Web-based social network applications. As the first book on OpenSocial, this valuable resource discusses the unique area of social networking and the needs and different attributes of social network applications. You?ll get step-by-step instructions for creating OpenSocial applications for multiple platforms and explore application development and deployment using integration technologies like the new Sun Zembly Platform. Plus, you?ll examine newer technologies like the Sun Platform that allows even non-programmers the ability to ?mash up? applications.
Introduction.
Chapter 1: Social Network Programming.
Chapter 2: Introduction to OpenSocial.
Chapter 3: Gadget XML and Gadget API.
Chapter 4: JavaScript API.
Chapter 5: OpenSocial RESTful API.
Chapter 6: Programming Fundamentals.
Chapter 7: Sample Applications.
Chapter 8: Performance, Scalability, and Monetization.
Chapter 9: OpenSocial Templates, Markup, and Emerging Technologies.
Index.