Operating System Concepts, 8th, Update Edition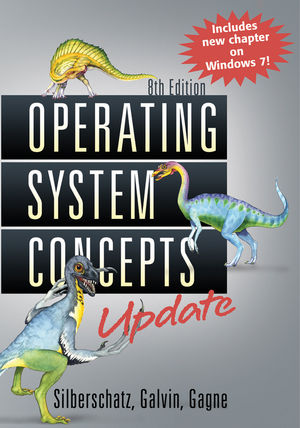 Operating System Concepts, 8th, Update Edition
ISBN: 978-1-118-11273-1
Jul 2011
972 pages
Product not available for purchase
Description
The best-selling and most respected text available, Operating System Concepts, Eighth Edition Update, provides a solid theoretical foundation for understanding operating systems. This Update Edition incorporates coverage of the most current topics in the rapidly changing field of operating systems --including Windows 7® and open-source operating systems. 
Written as a text for an introductory course in operating systems at the junior or senior undergraduate level or at the first-year graduate level, Operating Systems Concepts presents a clear description of the concepts that underlie operating systems. As prerequisites, the authors assume that the student is familiar with basic data structures, computer organization, and a high-level language, such as C or Java.
PART ONE OVERVIEW
Chapter 1 Introduction
Chapter 2 Operating-System Structures
PART TWO PROCESS MANAGEMENT
Chapter 3 Processes
Chapter 4 Threads
Chapter 5 CPU Scheduling
Chapter 6 Process Synchronization
Chapter 7 Deadlocks
PART THREE MEMORY MANAGEMENT
Chapter 8 Main Memory
Chapter 9 Virtual Memory
Chapter 10 File-System Interface
Chapter 11 File-System Implementation
Chapter 12 Mass-Storage Structure
Chapter 13 I/O Systems
PART FIVE PROTECTION AND SECURITY
Chapter 14 Protection
Chapter 15 Security
PART SIX DISTRIBUTED SYSTEMS
Chapter 16 Distributed System Structures
Chapter 17 Distributed File Systems
Chapter 18 Distributed Coordination
PART SEVEN SPECIAL -PURPOSE SYSTEMS
Chapter 19 Real-Time Systems
Chapter 20 Multimedia Systems
PART EIGHT CASE STUDIES
Chapter 21 The Linux System
Chapter 22 Windows 7®
Chapter 23 Influential Operating Systems
PART NINE APPENDICES
Appendix A BSD UNIX (contents online)
Appendix B The Mach System (contents online)
Appendix C Windows 2000 (contents online)
Bibliography
Credits
Index
Chapter 22 - Windows 7 replaces previous Chapter 22 - Windows XP.
Uses real-world operating systems to illustrate fundamental operating system concepts
o Particular attention is paid to the Microsoft family of operating systems and various versions of UNIX (Solaris, BSD, and Mac OS X)
Currency of coverage
o Guided by many comments and suggestions from users and the authors' own observations about the rapidly changing fields of operating systems, chapter material represents the most current thought and practice in operating systems
§ Coverage of open-source operating systems (Chapter 1)
§ See "Course Issues" section for detailed list of current topics covered
Abundant opportunity for student practice
o WileyPLUS includes algorithmically generated problems
o Simulators provide demonstrations and activities
o 15 new (to the 8e) programming problems
o Programming Projects - More involved than standard programming exercises