Operating System Concepts Essentials, 2nd Edition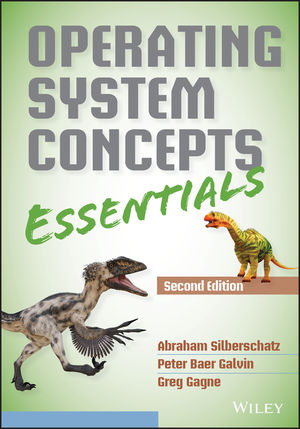 Operating System Concepts Essentials, 2nd Edition
ISBN: 978-1-118-80492-6 November 2013 784 Pages
Description
By staying current, remaining relevant, and adapting to emerging course needs, Operating System Concepts by Abraham Silberschatz, Peter Baer Galvin and Greg Gagne has defined the operating systems course through nine editions. This second edition of the Essentials version is based on the recent ninth edition of the original text.    

Operating System Concepts Essentials comprises a subset of chapters of the ninth edition for professors who want a shorter text and do not cover all the topics in the ninth edition. The new second edition of Essentials will be available as an ebook at a very attractive price for students. The ebook will have live links for the bibliography, cross-references between sections and chapters where appropriate, and new chapter review questions.  A two-color printed version is also available.
PART ONE. OVERVIEW.
Chapter 1. Introduction.
Chapter 2. Operating-System Structures.
PART TWO. PROCESS MANAGEMENT.
Chapter 3. Processes
Chapter 4. Threads.
Chapter 5. Process Synchronization.
Chapter 6. CPU Scheduling.
PART THREE. MEMORY MANAGEMENT.
Chapter 7. Main Memory.
Chapter 8. Virtual Memory.
PART FOUR. STORAGE MANAGEMENT.
Chapter 9. . Mass-Storage Structure.
Chapter 10. File-System Interface.
Chapter 11. File-System Implementation
Chapter 12. I/O Systems.
PART FIVE. PROTECTION AND SECURITY.
Chapter 13. Protection.
Chapter 14. Security.
PART SIX. CASE STUDIES.
Chapter 15. The Linux/System.
PART SEVEN. APPENDICES.
New, updated content throughout including increased coverage of open source operating systems, multicore systems and parallel programming, new coverage of mobile systems including IOS and Android, updated coverage of Memory, and an update of the Linux chapter to include the 3.4 kernel.
Integrated coverage of Linux and Windows throughout.
Many new exercises, programming problems, and programming projects.
Offers a more interactive experience with exercises using a Linux Virtual Machine with GCC development environment and Linux source code distribution
New review questions available online for student quizzing.
Uses real-world operating systems to illustrate fundamental operating system concepts.
Particular attention is paid to the Microsoft family of operating systems and various versions of UNIX (Solaris, BSD, and Mac OS X).
Teaches general concepts in operating systems while allowing for a choice in implementation systems. Rather than concentrating on a particular operating system or hardware, the text discusses key concepts that are applicable to a wide variety of systems.
 Currency of coverage:
Guided by many comments and suggestions from users and the authors' own observations about the rapidly changing fields of operating systems, chapter material represents the most current thought and practice in operating systems.
Coverage of open-source operating systems (Chapter 1).
Abundant opportunity for student practice: Practice Exercises, Exercises, and Programming Problems.
Briefer paperback priced significantly lower than the hardcover OSC text to enhance value for students.