Operational Review: Maximum Results at Efficient Costs, 3rd Edition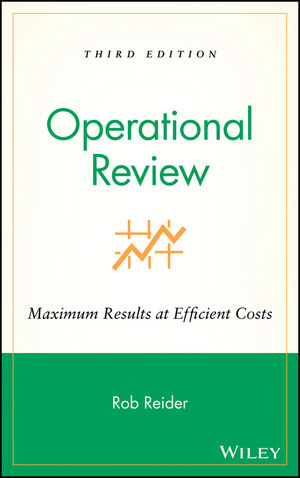 Operational Review: Maximum Results at Efficient Costs, 3rd Edition
ISBN: 978-0-471-22810-3
Aug 2002
394 pages
Product not available for purchase
Description
Shows in a step-by-step manner how an operational review should be conducted.
Demonstrates the differences between an operational and financial audit.
Details how to identify which organizational systems are detrimental to a corporation's growth.
Shows how to judge the results and make recommendations to management.
Provides blank and sample forms required for conducting a comprehensive operational review.
Buy Both and Save 25%!
Original Price:$270.00
Purchased together:$202.50
save $67.50
Cannot be combined with any other offers.
Buy Both and Save 25%!
Original Price:$271.50
Purchased together:$203.63
save $67.87
Cannot be combined with any other offers.
Buy Both and Save 25%!
Original Price:$306.95
Purchased together:$230.21
save $76.74
Cannot be combined with any other offers.
Preface.

Chapter One: Overview of Operational Reviews.

Operational Review Concepts.

Why Businesses Are in Existence.

Businesses a Company Is Not In.

Some Basic Business Principles.

Criteria for Organizational Growth.

Mental Models and Belief Systems.

Organizational Criteria Example.

Economy, Efficiency, and Effectiveness.

Definition.

Terms.

Financial Audits versus Operational Reviews.

Why Perform an Operational Review?

Specific Objectives.

Specific Purposes.

Benefits of Operational Reviews.

Operational Review Phases.

What Functions to Review.

Budget.

Initial Survey.

Engagement Development.

Chapter Two: Planning Phase.

Planning Phase Overview.

Information to Be Obtained.

Sources of Information.

Review of Organizational Planning and Budget Systems.

Organizational Structure and the Role of Management.

Identification of Critical Problem Areas.

Review of Administrative and Operational Controls.

Planning Phase Work Program.

Financial Statement Analysis.

Identifying Critical Areas.

Areas Not Selected for Review.

Conclusion.

An Operational Review Case Example: The Accounting Function.

Chapter Three: Work Program Phase.

Benefits of the Operational Review Work Program.

Operational Review Work Program Standards.

Who Develops the Work Program.

Work Program Work Steps.

Work Program Development Procedures.

Sample Work Program: Purchasing Function.

Operational Review Engagement Budget.

Assignment of Staff.

Operational Review Management.

Operational Review Schedule Control.

Engagement Control.

Example Company Work Program Phase.

Work Program to Field Work Phase.

Chapter Four: Field Work Phase.

Field Work Considerations and Tasks.

Factors in Reaching Conclusions.

Field Work Techniques.

Specific Field Work Techniques.

Field Work: Example Company.

Other Techniques.

Work Papers.

Evidence.

Identifying Items for Finding Development.

Case Study: Mercy College, a College Business Office.

Chapter Five: Development of Review Findings.

Attributes of a Review Finding.

Review Findings Development.

Identifying Attributes.

Approach to Developing Review Findings.

Review Finding Development: Example Company.

Developing Recommendations.

Recommendations through Internal Benchmarking.

Recommendations through External Benchmarking.

Choosing a Benchmarking Approach.

Benchmarking Data Collection.

Process Comparisons.

Functional Cost Controls.

Conclusion.

Chapter Six: Reporting Phase.

Interim Reporting.

Oral Reporting.

Written Report.

Characteristics of Good Reporting.

Reporting Review Findings.

ABCs of Effective Report Writing.

Sample Reports.

Conclusion.

Afterword.

Index.