Operational Risk Management: A Case Study Approach to Effective Planning and Response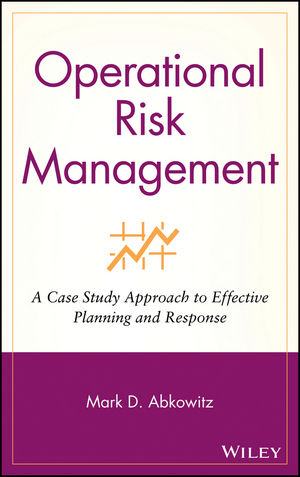 Operational Risk Management: A Case Study Approach to Effective Planning and Response
ISBN: 978-0-470-28186-4
Mar 2008
324 pages
Description
Operational Risk Management offers peace of mind to business and government leaders who want their organizations to be ready for any contingency, no matter how extreme. This invaluable book is a preparatory resource for when times are good, and an emergency reference when times are bad. Operational Risk Management is destined to become every risk manager?s ultimate weapon to help his or her organization survive ? no matter what.
Preface.
Chapter 1. Why Do Disasters Happen?
Part One. Man-Made Accidents.
Chapter 2. Hyatt Regency Walkway Collapse.
Chapter 3. Nightmare in Bhopal.
Chapter 4. Meltdown at Chernobyl.
Chapter 5. Exxon Valdez.
Chapter 6. Challenger and Columbia: Déjà Vu.
Part Two. Terrorist Acts.
Chapter 7. Oklahoma City Bombing.
Chapter 8. Aum Shinrikyo:Terror in Japan.
Chapter 9. Attack on the USS Cole.
Chapter 10. September 11: World Trade Center.
Chapter 11. London1 Transit Bombings.
Part Three. Natural Disasters.
Chapter 12. Wreck of the Edmund Fitzgerald.
Chapter 13. Eruption of Mount St. Helens.
Chapter 14. South Canyon Fire.
Chapter 15. Sumatra-Andaman Tsunami.
Chapter 16. Hurricane Katrina.
Part Four. Success Stories.
Chapter 17. United Airlines Flight 232.
Chapter 18. Alaska Pipeline and Denali Quake.
Chapter 19. Lessons Learned.
Epilogue.
Index.