Operations, Strategy, and Technology: Pursuing the Competitive Edge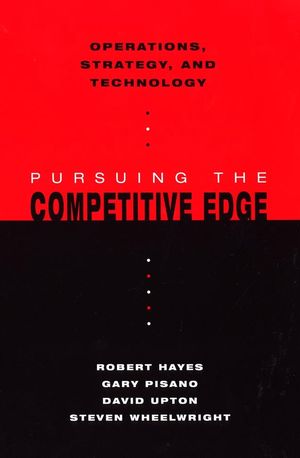 Operations, Strategy, and Technology: Pursuing the Competitive Edge
ISBN: 978-0-471-65579-4 February 2004 400 Pages
Description
Hayes is a founder of the Operations Strategy field, and all four authors are on the Harvard Business School faculty.  In Operations, Strategy, and Technology: Pursuing the Competitive Edge--the long-awaited follow-up to the highly successful classic, Restoring Our Competitive Edge--Bob Hayes, Gary Pisano, Dave Upton, and Steve Wheelwright take a fresh look at the foundations of corporate success.  This book addresses the basic principles that guide the development of a powerful operations organization, and describes how a company's operating and technological resources can be applied to create a sustainable competitive advantage in today's "new" (global and IT-intensive) economy. Achieving a competitive advantage through superior operations is what the authors refer to as the "operations edge."
1. Operations Management Confronts a New Millennium.
2. Operations Strategy: Origins and New Directions.
3. Capacity Strategy.
4. Determining Organizational Boundaries: Vertical Integration and Outsourcing.
5. Designing and Managing Operating Networks.
6. Information Technology and Operations.
7. Creating an Edge Through New Process Development.
8. Creating an Edge Through Superior Project Management.
9. Evaluating and Justifying Capital Investments.
10. Sharpening the Edge: Driving Operations Improvement.
11. Guiding the Pursuit of an Operations Edge.
Bibliography.
Index.
Focuses on the basic principles that create the foundation for an organization's operational success and describes how to strategically manage operating and technology resources.

Provides an overall framework for thinking about the management of a firm's operations function, rather than specific tools and techniques.

Addresses key topics such as corporate networks, information technology, process development, project management, and different ways of managing operating improvement. 

Provides the latest thinking on operations strategy, capacity planning, and outsourcing/vertical integration, based on the latest academic research and corporate experience. 

Includes examples in manufacturing and services, including Intel, Yahoo, McDonalds, and Dell.