Operations Management: A Process Approach with Spreadsheets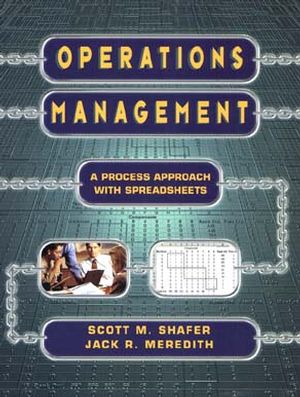 Operations Management: A Process Approach with Spreadsheets
ISBN: 978-0-471-16545-3
Jan 1998
860 pages
Description
Jack Meredith and Scott Shafer abandon the traditional approach for operations management books and focus on business processes and spreadsheets to solve problems. They provide readers with an applied and contemporary introduction to operations management as well as a solid foundation in its theory. With this text, readers will discover the latest trends currently being used in business. They'll learn about the additional skills needed to succeed in an extremely competitive environment. This includes the trend away from vertical hierarchical organizations toward horizontal process-centered ones creating a need for individuals who can also work as part of a team and who understand how technology can be used to better meet customer needs.
OPERATIONS IN A GLOBAL MARKET.

The Nature of Operations.

Business Strategy and International Competitiveness.

Quality Management.

Business Process Design.

PRODUCT AND TRANSFORMATION SYSTEM DESIGN.

Product/Service Selection and Design.

The Transformation System.

Facility Layout.

RESOURCE MANAGEMENT PROCESSES.

Forecasting.

Capacity Planning.

Facility Location.

PRODUCT SUPPLY PROCESSES.

Aggregate and Master Scheduling.

Inventory Management.

Planning Materials Requirements.

Just-In-Time Systems.

Detailed Scheduling.

Project Management.

Quality Control.

Appendices.

Bibliography.

Photo and Illustration Credits.

Index.
The text's business process orientation. This approach is appealing because it concentrates on the generic process found in all enterprises, including customer processes, resource management, process engineering, product supply chain,and support processes.
The use of spreadsheets as a problem-solving tool. This is not only cutting edge for this market,it also teaches students problem solving skills that can be appliedto other courses and future jobs.
A shorter, one-color format. These features make the text an attractive alternative to the large, costly books currently available, while at the same time making it a premier choice for half-semester modules.