Operations Management: An Integrated Approach, 4th Edition International Student Version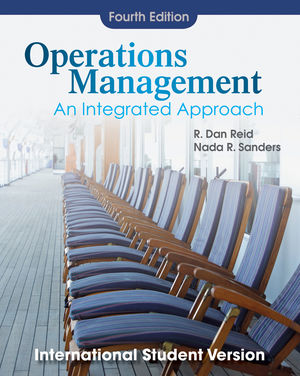 Operations Management: An Integrated Approach, 4th Edition International Student Version
Description
Workers in all functional areas interact with Operations Management (OM) and rely on it to do their jobs.  Taking an integrated approach, Dan Reid and Nada Sanders' Operations Management, 4th Edition continues to demonstrate the critical impact OM has in today's business environments and shows how OM relates to every department in an organization.  While the goal has always been to provide balanced coverage of quantitative and qualitative topics, the new edition has an even greater business focus, along with integrated problem-solving to help students navigate the OM course and their future careers more successfully.   
Chapter 1: Basics of Operations Management.
Chapter 2: Strategy & Productivity.
Chapter 3: Product & Process Design.
Chapter 4: Global Supply Chain Management.
Chapter 5: Managing Quality.
Chapter 6: Quality Control and Six Sigma.
Chapter 7: Lean Systems.
Chapter 8: Forecasting and Demand Planning.
Chapter 9: Capacity and Location Decisions.
Chapter 10: Layout Planning.
Chapter 11: Job Design and Work Measurement.
Chapter 12: Inventory Management Policies.
Chapter 13: Sales and Operations Planning.
Chapter 14: Materials Planning.
Chapter 15: Operations Scheduling.
Chapter 16: PERT, CPM and Critical Chain.
New Green supply chain management section in Chapter 4, and in Product and Process Design and Selection.
New and expanded coverage of supply chain and services in every chapter.
Greater emphasis on student success and the business.
Select global issues are addressed in Chapter 4.
New exercises and cases per chapter, including elementary exercises those for less experienced students.
More problems with solutions for analysis and practice.
WileyPLUS

Integrated Approach
- Emphasis on integrated supply chain and process orientation
- Cross-functional icons highlight interdisciplinary coverage

"OM Across the Organization" summarizes the important concepts for each functional area.

Virtual Company Interactive Consulting Case
- Illustrates key OM concepts in a real life business situation.  Students act as interns to complete assignments. 
- Each chapter contains a scenario that causes students to apply OM concepts to the cruise industry.

Supply Chain Links at the end of each section to explain supply chain relationship with specific chapter topics.

Before You Begin helps students solve quantitative problems by providing tips and hints to consider before proceeding to the solved problems.

Classroom Response Systems:  Special questions that offer quick quantitative problems for students to practice OM techniques within the classroom.