Operations Management for MBAs, 5th Edition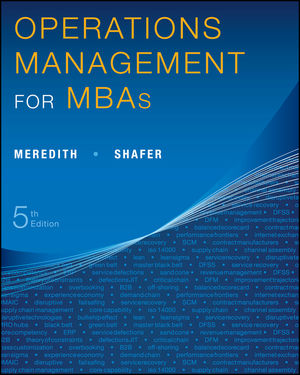 Operations Management for MBAs, 5th Edition
ISBN: 978-1-118-36997-5
Nov 2012
464 pages
Product not available for purchase
Description
Operations Management for MBAs provides an introduction to the basic concepts of operations management with a strategic, conceptual, and contemporary approach.  Specifically written with the needs of MBA students in mind, current topics such as supply chain management, the balanced scorecard, and yield management, as well as those specific to marketing, finance and other majors are explained with less quantitative and more conceptual content.
With a concise format, this text is designed to allow professors to tailor the course through supplementary cases and other materi­als for the unique nature of various MBA programs and student populations.
Jack Meredith has written eight books on operations management, project management and management science, and his research focus is on the strategic and operational problems that managers face, particularly those concerning the management of advanced technology.  Scott Shafer, one of the nation's first college professors to earn the Black Belt Six Sigma certification through the American Society for Quality (ASQ), integrates Six Sigma into educational programs as Director of MA Program and Professor of Management. 
Chapter 1: Operations Strategy and Global Competitiveness/1
Operations/6
Customer Value/15
Strategy and Competitiveness/26
Chapter 2: Process Planning and Design/47
Forms of Transformation Systems/51
Selection of a Transformation System/73
Chapter 3: Controlling Processes/91
Monitoring and Control/94
Process Monitoring/95
Process Control/102
Controlling Service Quality/110
Chapter 4: Process Improvement: Minimizing Variation Through Six Sigma/119
Approaches for Process Improvement/124
Business Process Design (Reengineering)/125
Six Sigma and the DMAIC Improvement Process/129
Example Six Sigma Project/132
The Define Phase/133
The Measure Phase/138
The Analyze Phase/149
The Improve Phase/155
The Control Phase/158
Six Sigma in Practice/158
Chapter 5: Process Improvement: Reducing Waste Through Lean/167
History and Philosophy of Lean/171
Traditional Systems Compared with Lean/173
Specify Value/180
Identify the Value Stream/181
Make Value Flow/186
Pull Value Through the Value Stream/191
Pursue Perfection/194
Benefits of Lean/196
Lean Six Sigma/197
Chapter 6: Managing Process Improvement Projects/203
Defining a Project/206
Planning the Project/208
Scheduling the Project/218
Controlling the Project: Earned Value/233
Chapter 7: Supply Chain Management/241
Defining Supply Chain Management/246
Supply Chain Strategy/249
Supply Chain Design/253
Outsourcing and Global Sourcing/259
Inventory Management/265
Role of Information Technology/270
Successful Supply Chain Management/276
Chapter 7 Supplement A: The Beer Game/283
Chapter 7 Supplement B: The Economic Order Quantity Model/289
Chapter 8: Capacity, Scheduling, and Location Planning/297
Long-term Capacity Planning/301
Location Planning Strategies/307
Locating Pure Services/315
Effectively Utilizing Capacity Through Schedule Management/316
Short-term Capacity Planning/328
Chapter 8 Supplement: Forecasting/353
Forecasting Purposes and Methods/354
Time Series Analysis/357
Causal Forecasting with Regression/367
Cases/379
BPO, Incorporated: Call Center Six Sigma Project/381
Peerless Laser Processors/394
United Lock: Door Hardware Division (A)/399
Heublein: Project Management and Control System/413
D. U. Singer Hospital Products Corp./424
Automotive Builders, Inc.: The Stanhope Project/427
Index/435
New mini cases accompany the last three chapters, for more variety, flexibility and opportunities for analysis.
New Chapter Opening: Each chapter starts with a diagram depicting where it falls in the flow of the text rather than the details of the topics within each chapter, and is then followed by a discussion of how the topic is related to competitiveness.
New coverage of current trends in operations, such as technology (e.g., RFID) and the green/sustainability movement and servicescapes.
Material that is conceptual and strategic, to meet the needs of MBA students who will benefit more from discussions and examples than a heavy quantitative presentation.
Examples featuring services organizations and international companies to engage and prepare students for the nature of the global economy.
Inclusion of The Beer Game, which is used in many MBA classes.