Operations Module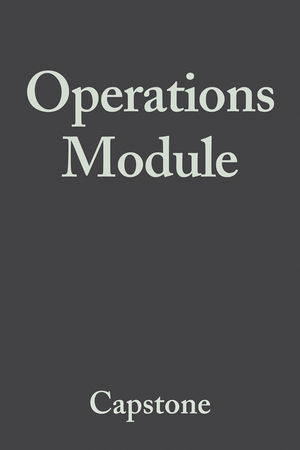 Operations Module
ISBN: 978-1-841-12409-4
Mar 2000
960 pages
Description
Building the machine that will take product to market most efficiently and cost-effectively is crucial to commercial success. This module lets readers understand the nuts and bolts of logistics along with the latest technological advances and hot topical issues, and gives high-profile examples of how supply chains are being constructed and maintained in today's computer-driven world, even through crisis.

ExpressExec is a unique 12 modular resource of current business practice. Each module contains 10 individual titles that combined cover all the key aspects of business practice globally today.

Written by leading experts in their field and commissioned specifically for ExpressExec the knowledge imparted provides an executive with the tools and skills to increase their contribution to an organisation. Each title gives you the key concepts behind the subject and the techniques to implement the ideas effectively, together with lessons from benchmark companies and ideas from the world's smartest thinkers.

The 10 books in the ExpressExec Operations and Technology module are:

1. Operations and Technology Express

2. Operating Globally

3. E-Processes

4. Supply Chain Management

5. Crisis Management

6. Project Management

7. Managing Quality

8. Managing Technology

9. Measurement and Internal Audit

10. Making Partnerships Work

ExpressExec is a perfect learning solution for people who need to master the latest business thinking and practice quickly.
Introduction to Express Exec

introduction

What is Crisis Management

Evolution of Crisis Management

The E-Dimension

The Global Dimension

The State of the Art

In Practice

Key Concepts and Thinkers

Resources

Ten Steps to Making it all Work

Frequently Asked Questions (FAQs)

Index