Operations and Supply Chain Management for MBAs, 6th Edition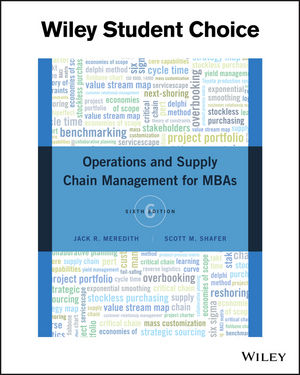 Operations and Supply Chain Management for MBAs, 6th Edition
ISBN: 978-1-119-23607-8
Dec 2015
372 pages
Description
TRY (FREE for 14 days), OR RENT this title: www.wileystudentchoice.com

Operations and Supply Chain Management for MBAs, 6th Edition, provides an introduction to the basic concepts of operations and supply chain management with a strategic, conceptual, and contemporary approach. Specifically written with the needs of MBA students in mind, current topics such as supply chain management, the balanced scorecard, and yield management, as well as those specific to marketing, finance and other majors are explained with less quantitative and more conceptual content. With a concise format, this text is designed to allow professors to tailor the course through supplementary cases and other materials for the unique nature of various MBA programs and student populations.
Preface xiii
Part 1 Strategy and Execution 1
1 Operations and Supply Chain Strategy for Competitiveness 2
2 Executing Strategy: Project Management 34
Part 2 Process and Supply Chain Design 65
3 Process Planning 66
4 Capacity and Scheduling 97
5 Supply Chain Planning and Analytics 126
6 Supply Chain Management 157
Part 3 Managing and Improving the Process 199
7 Monitoring and Controlling the Processes 200
8 Process Improvement: Six Sigma 225
9 Process Improvement: Lean 258
Cases 284
Glossary 338
Index 343
• New Increased importance on Supply Chain Management
• Chapter focusing on demand planning, forecasting, analytics, and sales and operations planning.
• Chapter on the use of project management to implement strategic plans
• Material is organized into three parts: Strategy and Execution, Process & Supply Chain Design, Managing and Improving the Process
• Updated examples and cases
• Covers introductory, basic, and primarily conceptual material allowing professors to tailor the course through supplementary cases and other materials for the unique class they would be teaching: executive, evening, full-time, short course, and so on.
• Contains examples featuring services organizations and international companies to engage and prepare students for the nature of the global economy.
• Includes of the Beer Game, which is used in many MBA classes