Ophthalmic Nursing, 3rd Edition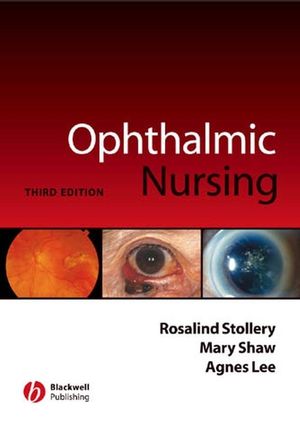 Ophthalmic Nursing, 3rd Edition
ISBN: 978-0-470-77774-9 April 2008 Wiley-Blackwell 272 Pages
Description
This
third edition
of Ophthalmic Nursing reflects recent advances in diagnosis and treatment and developments in the role of the ophthalmic nurse. It includes evidence-based procedures for care of ophthalmic patients on the ward, in outpatients, day care and casualty.
The third edition includes more on professional issues and specialist nursing roles, differentiates adult and paediatric issues, and places more emphasis on assessment skills, pain management, infection control, day surgery, psychological aspects and links to primary care.
Ophthalmic Nursing is an invaluable resource for all nurses involved in ophthalmic care and an essential text for courses in ophthalmic nursing.
Addresses key ophthalmic conditions, trauma and surgery
Focuses on understanding patient's needs and planning effective patient care
Includes key skills and rationale for action
Reflects current developments in professional practice
Easy-to-read and highly illustrated
Includes a coulour plate section
Table of contents
Chapter 1: The Ophthalmic Patient.
Chapter 2: The Ophthalmic Nurse.
Chapter 3: Ophthalmic Nursing Procedure.
Chapter 4: The Globe: a brief overview.
Chapter 5: The Protective Structures.
Chapter 6: The Lacrimal System and Tear Film.
Chapter 7: The Conjunctiva.
Chapter 8: The Cornea and Sclera.
Chapter 9: The Uveal Tract.
Chapter 10: Glaucoma.
Chapter 11: The Crystalline Lens.
Chapter 12: The Retina, Optic Nerve and Vitreous.
Chapter 13: The Extra-ocular Muscles.
Chapter 14: Ophthalmic Trauma.
Chapter 15: Removal of an Eye.
Chapter 16: Ocular Manifestations of Systemic Disease.
Chapter 17: Ophthalmic Drugs.
Appendix 1: Correction of Refractive Errors.
Appendix 2: Contact Lenses
Reviews
From the reviews of the second editon
"Ophthalmic Nursing is a good portable size which would fit easily into handbags or briefcases. We recommend that every nurse working in ophthalmics should have one!" (Ophthalmic Nursing)
Features
* Addresses key ophthalmic conditions, trauma and surgery
* Focuses on understanding patient's needs and planning effective patient care
* Includes key skills and rationale for action
* Reflects current developments in professional practice
* Easy-to-read and highly illustrated
* Includes a colour plate section