Optimising Pesticide Use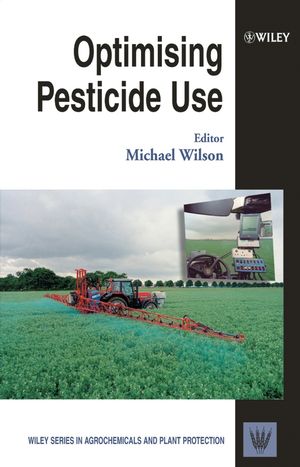 Optimising Pesticide Use
ISBN: 978-0-470-87178-2 January 2004 222 Pages
Description
Optimising Pesticide Use brings together the wide range of scientific disciplines necessary to ensure best practice through monitoring what is used and improving how it is formulated and applied. The book provides:
* An in-depth exploration of pesticide optimisation from the view point of industry and research scientist
* A case study on the development of a new range of active chemistries from bacteria
* A discussion of complementary pest control methods

This text will provide essential information to workers in the pesticide industry and regulatory community who need to be aware of current thinking and advancements in the optimal use of pesticidal compounds and systems, as well as environmental organisations and aid development organisations.
Contributors.

1. Optimising Pesticide Use -
Introduction (M. F. Wilson).

2. Pesticide Usage Monitoring (M. R. Thomas).

3. Application Technologies (J. C. van de Zande, C. S. Parkin and A. J. Gilbert).

4. Handling and Dose Control (P. C. H. Miller).

5. Specialised Application Technology (G. A. Matthews).

6. The Aerial Application of Pesticides (N. Woods).

7. Formulating Pesticides (R. Sohm).

8. Rational Pesticide Use: Spatially and Temporally Targeted Application of Specific Products (R. Bateman).

9. Complementary Pest Control Methods (C. H. Bell, D. M. Armitage and B. R. Champ).

Index.
"...a comprehensive and timely contribution...key issues are brought together in a discussion of Rational Pesticide Use..." (International Pest Control, Vol 46(1), Jan/Feb 2004)
"…gives a complete overview of all the available and latest technologies for optimising pesticide use." (International Journal of Environment and Pollution, Vol.23, No.2, 2005)