Optimizing Processes with RFID and Auto ID: Fundamentals, Problems and Solutions, Example Applications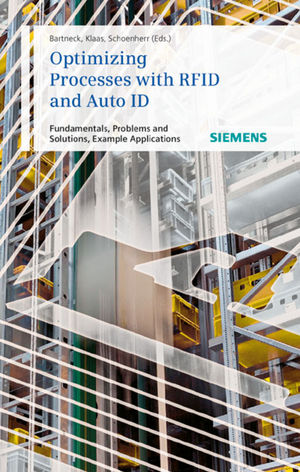 Optimizing Processes with RFID and Auto ID: Fundamentals, Problems and Solutions, Example Applications
ISBN: 978-3-895-78646-4 March 2009 270 Pages
Description
Radio Frequency Identification (RFID) is the technology applied for unambiguous and contactless identification of all types of objects. Varying magnetic fields or radio waves enable contactless data transfer as well as fast, automatic data collection. In addition, the importance of optical codes gains further importance due to their specific advantages. RFID and Auto ID systems are used in a wide range of sectors - from the consumer goods industry and trade via the automobile and aerospace industries to the chemicals and pharmaceuticals industries, as well as logistics and transport facilities. New potentials to secure competitive advantages can be utilized with early planning of the application of RFID and Auto ID in procurement, manufacturing and logistics.
In addition to RFID and Auto ID technology, this book presents applications from different areas of application which have already been tried and tested. They demonstrate the approach, the process and the selection of RFID and Auto ID systems for various problems.
A perspective on trends and innovative security solutions shows possible future application options for this technology.

Basics: RFID technology, Optical codes, System architecture, System selection criteria, Standardization
RFID in practice: Process design and profitability, Introduction to the practical application of RFID
Applications: Manufacturing control, Production logistics, Container and Asset Management, Tracking and Tracing, Optimization of Supply Networks, Vehicle logistics, RFID at the airport, Postal automation, RFID in hospitals
New developments: RFID, printed on a roll, RFID and sensors, RFID security, En route to the "internet of things"