Optimum Array Processing: Part IV of Detection, Estimation, and Modulation Theory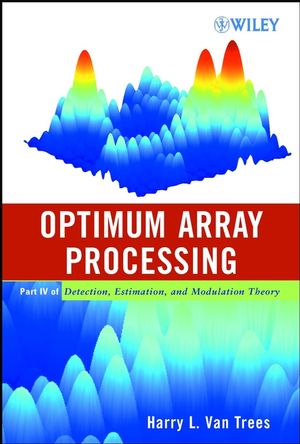 Optimum Array Processing: Part IV of Detection, Estimation, and Modulation Theory
ISBN: 978-0-471-46383-2
Apr 2004
1472 pages
Description
Well-known authority, Dr. Van Trees updates array signal processing for today's technology
This is the most up-to-date and thorough treatment of the subject available
Written in the same accessible style as Van Tree's earlier classics, this completely new work covers all modern applications of array signal processing, from biomedicine to wireless communications
Preface.

Introduction.

Arrays and Spatial Filters.

Synthesis of Linear Arrays and Apertures.

Planar Arrays and Apertures.

Characterization of Space-Time Processes.

Optimum Waveform Estimation.

Adaptive Beamformers.

Parameter Estimation I: Maximum Likelihood.

Parameter Estimation II.

Detection and Other Topics.

Appendix A: Matrix Operations.

Appendix B: Array Processing Literature.

Appendix C: Notation.

Index.
""...an integrated presentation of classical and statistical array processing...develops synthesis techniques..."" (SciTech Book News, Vol. 26, No. 2, June 2002)