Options on Futures: New Trading Strategies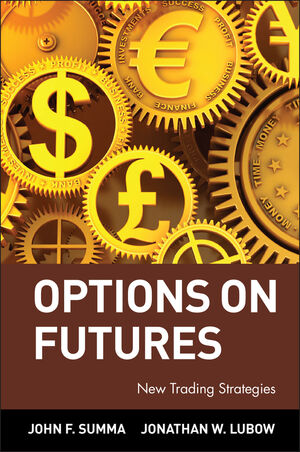 Options on Futures: New Trading Strategies
ISBN: 978-0-471-43643-0 January 2002 192 Pages
Description
Increased marketplace volatility and the expanding size of capital markets have led to an explosion of interest in options on futures. What makes these instruments so attractive is that they allow traders to profit from movements in the markets using little up-front capital and plenty of leverage. At the same time, they provide an excellent hedge against the risks associated with capital market investments. This book demystifies these notoriously difficult-to-understand instruments and provides state-of-the-art strategies and tools for making the most of options on futures.
John F. Summa (New Haven, CT) is a CTA and cofounder of OptionsNerd.com, an online service providing market commentary, trading advisories, and assistance with trading system development. Jonathan Lubow (Randolph, NJ) is cofounder and Vice President of Trader's Edge, a futures and options brokerage.
Introduction.

Trading Options the "Write" Way.

Why Trade Options on Futures?

S&P Future Basics/The Option Pricing Story.

Understanding S&P 500 Options.

The Long and Short of an S&P Credit Spread.

Simulating Margin Requirements for an S&P Credit Spread.

Parameters of Profitability of S&P Credit Spreads.

Commodity Futures and Options Charaacteristics.

Selling Strategies for Commodity Options.

Putting Theory into Practice.

Synthetic Call Strategies for Commodities.

Using Put-Call Ratio Analysis to Find Timely Entries.

The Coulda-Woulda-Shoulda Approach Is Not Going to Make You Any Money.

Glossary of Options on Futures Terms.

Appendix A: Historical Commodity Charts (Monthly).

Appendix B: Historical Commodity Charts (Daily).

Appendix C: Historical Commodity Price Ranges (Quarterly).

Appendix D: Select Futures and Options Contract Specifications.

Appendix E: Futures and Options Contract Point Values.

Appendix F: Futures and Options Resources on the Internet.

Appendix G: Equity-Only Put-Call Ratio Data.

Index.