Optoelectronic Packaging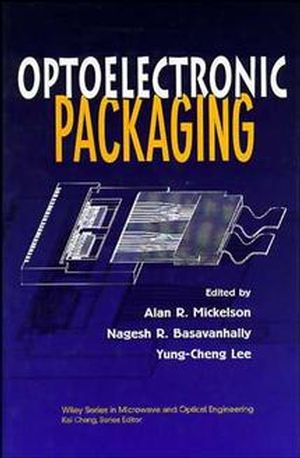 Optoelectronic Packaging
ISBN: 978-0-471-11188-7
May 1997
280 pages
Description
The missing link in a dynamically growing field--a state-of-the-art reference on optoelectronic packaging

The rapidly expanding field of packaging for optoelectronic devices challenges electrical engineers with a host of complex and daunting problems. The increasing intricacy of assemblage compounds the thorny interconnection issues associated with electronic packaging-how to assemble an array with many elements efficiently while maintaining thermal tolerance and simultaneously overcoming the ensuing modulation problems that generate electrical noise. Adding to these problems has been the absence, until now, of a single authoritative reference on the subject.

Optoelectronic Packaging is the first and only comprehensive sourcebook on optoelectronic assembly techniques. For optoelectronic packaging experts and professionals in adjunct technologies, it provides an overview of today's state-of-the-art technologies, packages now on the drawing board, and the future direction of packaging types. For the novice, it lays down the fundamentals of optics and packaging. This incomparable text features contributions from hands-on practitioners and, supplemented with extensive illustrations, it
* Covers detector, semiconductor laser, and optical amplifier packaging
* Discusses waveguide technologies, free-space interconnects, and hybrid technologies
* Examines communication system interconnection structure and fiber-optic networks in telecommunications
* Explores array device packaging and flip-chip assembly for smart pixel arrays
* Includes case studies of packaged subassemblies
Communication System Interconnection Structure (N. Yamanaka).

Long- Distance Interconnections: The Fiber-Optic Network (G. Grimes).

What a Packaging Engineer Needs to Know about Optics (F. Kapron & R. Holland).

Semiconductor Laser and Optical Amplifier Packaging (S. Merritt, et al.).

Detector Packaging (L. Watkins).

Waveguide Technologies (R. Feuerstein).

A Review of Passive Device Fabrication and Packaging (V. Bhagavatula).

Array Device Packaging (N. Basavanhally & R. Nordin).

Hybrid Technology for Optoelectronic Packaging (P. Haugsjaa).

Free-Space Optical Interconnect for Digital Systems (J. Neff).

Flip-Chip Assembly for Smart Pixel Arrays (Y. Lee, et al.).

Appendix.

References.

Index.