Oracle9i DBA JumpStart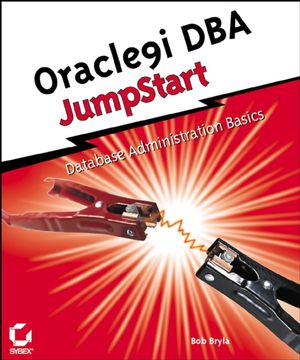 Oracle9i DBA JumpStart
ISBN: 978-0-782-15161-9
Feb 2006
345 pages
Product not available for purchase
Description
Get Up to Speed for Oracle9i Administration Training Courses--Fast!
Oracle9i DBA JumpStart gives you the solid grounding you need to approach Oracle certification with confidence:
* Introduction to relational database concepts
* Using basic SQL*Plus and iSQL*Plus commands
* Understanding Oracle database functions
* Using multiple tables
* Restricting, sorting, and grouping data
* Creating and maintaining a database
* Using SQL*Plus reporting techniques
* Creating and maintaining database objects
* Setting up users and managing security
* Configuring optimization
* Creating backups
* Troubleshooting
Introduction.
Chapter 1: Relational Database Concepts.
Chapter 2: SQL*Plus and iSQL*Plus Basics.
Chapter 3: Oracle Database Functions.
Chapter 4: Restricting, Sorting, and Grouping Data.
Chapter 5: Using Multiple Tables.
Chapter 6: Advanced SQL Queries.
Chapter 7: Logical Consistency.
Chapter 8: Installing Oracle and Creating a Database.
Chapter 9: Reporting Techniques.
Chapter 10: Creating and Maintaining Database Objects.
Chapter 11: Users and Security.
Chapter 12: Making Things Run Fast (Enough).
Chapter 13: Saving Your Stuff (Backups).
Chapter 14: Troubleshooting.
Appendix A: Answers to Review Questions.
Appendix B: Glossary.
Appendix C: Common Database Platforms.
Index.
Chapter
Page
Details
Date
Print Run
Combined Errata


Page 25

After first sentence, in code: "select from * dept;" should be "select * from dept;".

Page 29

Note at the bottom: "DBAs may configure and tune a mostly read-only database differently than they configure a frequent read-write database differently." line 5 should not have the extra "differently" at the end.




---