Oral Controlled Release Formulation Design and Drug Delivery: Theory to Practice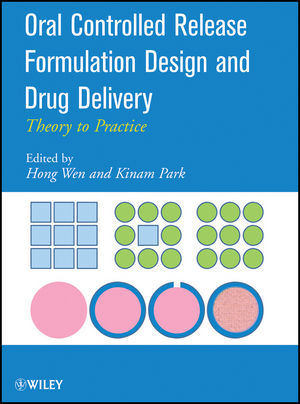 Oral Controlled Release Formulation Design and Drug Delivery: Theory to Practice
ISBN: 978-0-470-25317-5 October 2010 376 Pages
Description
This book describes the theories, applications, and challenges for different oral controlled release formulations. This book differs from most in its focus on oral controlled release formulation design and process development. It also covers the related areas like preformulation, biopharmaceutics, in vitro-in vivo correlations (IVIVC), quality by design (QbD), and regulatory issues.
Preface.
Contributors.
1 Introduction and Overview of Oral Controlled Release Formulation Design (Hong Wen and Kinam Park).
2 Evolution of Oral Controlled Release Dosage Forms (Ping I. Lee and Jian-Xin Li).
3 Biopharmaceutic Consideration and Assessment for Oral Controlled Release (CR) Formulations (Hua Zhang and Jean M. Surian).
4 Preformulation Consideration for Drugs in Oral CR Formulation (Manching Sherry Ku).
5 Polymers in Oral Modified Release Systems (Jiasheng Tu, Yan Shen, Ravichandran Mahalingam, Bhaskara Jasti, and Xiaoling Li).
6 Oral Extended Release Hydrophilic Matrices: Formulation and Design (Xiaoguang Wen, Ali Nokhodchi, and Ali Rajabi-Siahboomi).
7 Coating Systems for Oral Controlled Release Formulations (Linda A. Felton).
8 Fluid Bed Coating and Granulation for CR Delivery (Yue Teng and Zhihui Qiu).
9 Controlled Release using Bilayer Osmotic Tablet Technology: Reducing Theory to Practice (Sheri L Shamblin).
10 Fast Disintegrating Tablets (Seong Hoon Jeong, Jaehwi Lee, and Jong Soo Woo).
11 Buccal Drug Delivery Systems (John D. Smart and Gemma Keegan).
12 Oral Targeted Drug Delivery Systems: Gastric Retention Devices (Hamid Omidian and Kinam Park).
13 Oral Targeted Drug Delivery Systems: Enteric Coating (Wendy Dulin).
14 Orally Administered Drug Delivery Systems to the Colon (Mirela Nadler Milabuer, Yossi Kam and Abraham Rubinstein).
15 Dissolution Testing: In Vitro Characterization of Oral Controlled Release Dosage Forms (Michele Xuemei Guo).
16 Challenges and New Technologies of Oral Controlled Release (Xiaoming Chen, Hong Wen and Kinam Park).
17 Oral Controlled Drug Delivery: Quality By Design (QbD) Approach to Drug Development (Shailesh Singh, Thirunellai G. Venkateshwaran and Stephen P. Simmons).
18 Oral Controlled Release-Based Products for Life Cycle Management (Nipun Davar and Sangita Ghosh).
19 Generic Oral Controlled Release Product Development: Formulation and Process Considerations (Salah U. Ahmed and Venkatesh Naini).
20 The Science and Regulatory Perspectives of Emerging Controlled Release Dosage Forms (Rakhi B. Shah and Mansoor A. Khan).
Index.