Ordinary Courage: The Revolutionary War Adventures of Joseph Plumb Martin, 3rd Edition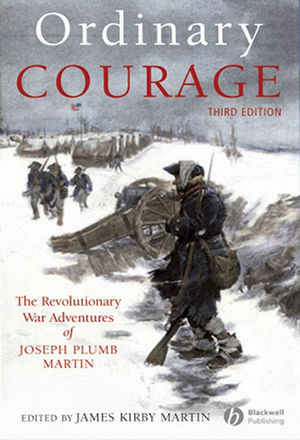 Ordinary Courage: The Revolutionary War Adventures of Joseph Plumb Martin, 3rd Edition
ISBN: 978-1-444-35801-8 September 2011 Wiley-Blackwell 224 Pages
Description
Enriched by James Kirby Martin's expanded and updated introduction, this classic memoir provides a compelling history of the Revolutionary War as seen through the eyes of one courageous soldier.


Includes an expanded and updated introduction, annotations, and suggestions for further reading

New maps give an overview of Joseph Plumb Martin's travels

Brief headnotes introduce each chapter
Table of contents
Introductory Comments.
Preface.
Chapter I: Introductory.
Chapter II: Campaign of 1776.
Chapter III: Campaign of 1777.
Chapter IV: Campaign of 1778.
Chapter V: Campaign of 1779.
Chapter VI: Campaign of 1780.
Chapter VII: Campaign of 1781.
Chapter VIII: Campaign of 1782.
Chapter IX: Campaign of 1783.
Suggestions for Additional Reading.
Index
Reviews
"For students, professional historians, and general readers, James Kirby Martin, a most gifted historian, has provided a superb edition of Joseph Plumb Martin's narrative of his life as a soldier in the American Revolution."
Robert Middlekauff, University of California, Berkeley
"Ordinary Courage is a classic in American military history. James Kirby Martin has expertly edited the original version. It is wonderful to have such an excellent volume, so skillfully introduced and edited, available for students and the general readership."
Joseph T. Glatthaar, University of North Carolina at Chapel Hill
"Ordinary Courage reminds the reader that the American Revolution was fought by ordinary persons thrust in to extraordinary circumstances. Joseph Plumb Martin did not advise Washington, write stirring documents, or hold an important political office, but he fought and suffered for American independence. James Kirby Martin has done an extraordinary job editing the work, with notes that provide the historical context for Joseph Martin's experiences."
Randy Roberts, Purdue University
"James Kirby Martin, long recognized as one of the leading historians of the American Revolution, has done us a real service in presenting a new edition of Joseph Plumb Martin's Revolutionary War Adventures of Joseph Plumb Martin, appropriately entitled Ordinary Courage, the best memoir of a Continental soldier available."
Don Higginbotham, University of North Carolina at Chapel Hill
What's New
• A classic memoir which provides a history of the Revolutionary War as seen through the eyes of one courageous soldier
• Includes an expanded and updated introduction, annotations, and suggestions for further reading
• New maps give an overview of Joseph Plumb Martin's travels
• Brief headnotes introduce each chapter