Ordinary Knowledge: An Introduction to Interpretative Sociology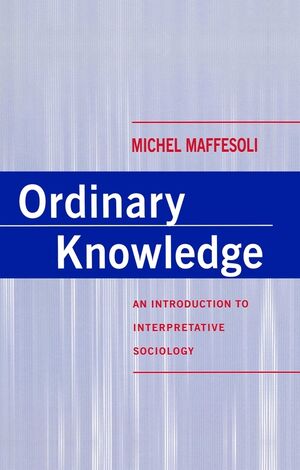 Ordinary Knowledge: An Introduction to Interpretative Sociology
ISBN: 978-0-745-61118-1 June 1996 Polity 208 Pages
Description
In this important and stylish book, Michel Maffesoli argues that it is impossible to reduce knowledge to a conception of science inherited from the nineteenth century. Instead, he argues, we must go beyond intellectual conformities based on limited and archaic moral or political foundations. This approach emphasizes the growing importance of information and communication in modern societies.

Maffesoli suggests that sociologists have too often succumbed to the "positivist fascination" of analytical formalism and dualistic thinking. Rather than viewing society as a finished product, he develops an approach which seeks to analyse, in all their nuances and contradictions, the new forms of social life - particularly everyday life - which are beginning to emerge in the late twentieth century.

A timely contribution to current debates, Ordinary Knowledge will be welcomed by students and researchers in sociology and social theory.
Perspectives.
Introduction.
1. The Fascination of Positivism.
2. The Experience of Relativism.
3. The Ideological Function.
4. Towards a Sociological 'Formism'.
5. The Analogical Method.
6. Physical and Social 'Correspondence'.
7. Ever Renewed Life.
8. The Epistemology of Everyday Life.
Notes.
Bibliography.
Index.
"Maffesoli's feel for the local places him in the vanguard of postmodern sociology. Maffesoli's scholarship, his insight into contemporary subjectivity and his understanding of relativism make this book an important intervention in the field of contemporary cultural analysis."
Roy Boyne, School of Human Studies, University of Teesside
"Maffesoli develops his arguments with the same elegance and sensitivity to style to which he draws attention in social life itself. There can be no doubt that Maffesoli is one of the leading sociological analysts of the fin de siècle." William Outhwaite, School of European Studies, University of Sussex
A provocative and challenging book which argues for a defiant innovation of thought
Puts forward a compelling argument: that everyday life should be regarded as a privileged object of investigation
The author is one of the leading sociologists of fin de si&egravecle culture and society.