Ore Geology and Industrial Minerals: An Introduction, 3rd Edition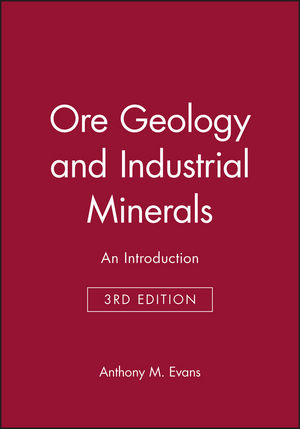 Ore Geology and Industrial Minerals: An Introduction, 3rd Edition
ISBN: 978-1-118-68502-0
Jul 2013, Wiley-Blackwell
400 pages
Description
Much new data and many new ideas have emerged in the area of ore geology and industrial minerals since publication of the second edition of this text in 1987. The overriding philosophy behind this new edition is the inclusion and integration of this new material within the established framework of the text. The third edition is re-presented in the modern double-column format.

Non-metallic deposits of industrial and bulk materials are fully covered to meet the changing emphasis of courses in applied geology. In addition, chapter 1 has been considerably enlarged to include a section on mineral economics covering metals, industrial minerals and bulk materials. In this section, the various aspects of economic exploitation of industrial and bulk materials are compared with those of metallic deposits. Other major revisions and additions include a section on fluid inclusions, expansion of the section on wall rock alteration, expansion of the material on isotope studies, and the inclusion of a section on hydraulic fracturing and seismic pumping.
Part 1: Principles - Some Elementary Aspects of Mineral Economics.
The Nature and Morphology of the Principal Types of ore Deposit.
Textures and Structures of Ore and Gangue Minerals.
Fluid Inclusions.
Wall Rock Alteration.
Some Major Theories of Ore Genesis.
Geothermometry, Geobarometry, Paragenetic Sequence, Zoning and Dating of Ore Deposits.
Part 2: Examples of the More Important Types of Ore Deposit - Classification of Ore Deposits.
Diamond Deposits in Kimberlites and Lamproites.
The Carbonatite-alkaline Igneous Ore Environment.
The Pegmatitic Environment.
Orthomagmatic Deposits of Chromium, Platinum, Titanium and Iron Associated with Basic and Ultrabasic Rocks.
Orthomagmatic Copper-nickel-iron (-platinoid) Deposits Associated with Basic and Ultrabasic Rocks.
Greisen Deposits.
The Skarn Environment.
Disseminated and Stockwork Deposits Associated with Plutonic Intrusives.
Stratiform Sulphide, Oxide, and Sulphate Deposits of Sedimentary and Volcanic Environments.
The Vein Association and Some other Hydrothermal Deposits.
Strata-bound Deposits.
Sedimentary deposits.
Residual Deposits and Supergene Enrichment.
Industrial Minerals.
Short notes on Selected Industrial Minerals.
The Metamorphism of Ore Deposits.
Part 3: Mineralization in space and time - The global distribution of ore deposits: metallogenic provinces and epochs, plate tectonic controls.
Ore mineralization through geological time.
Appendix.
Index
'From second edition:
" The book deserves to do well; Dr. Evans has got the balance of subject matter about right for a comprehensive introductory text… the book is realistic in its demands on the reader and should become equally popular as its predecessor." Geological Journal

"Because of the immense range of knowledge required to write a good textbook on the subject, few economic geologists have the talent, time and willingness to devote to this task; and few, if any, really good textbooks on the subject have been written in recent years. Considering its modest length, this book by Evans comes as close as any to meeting the needs for a first course in ore deposits." Geochimica et Cosmochimica Acta

"Basically, this book is an excellent undergraduate-level text, which I will again consider using." Canadian Mineralogist

* fully expanded and revised to remain the modern undergraduate text of choice in applied geology * now includes extensive coverage of industrial minerals and bulk materials thus meeting the changing emphasis of modern courses in applied geology * now presented in the favoured double-column format * the author is an expert with an international reputation