Organelle-Specific Pharmaceutical Nanotechnology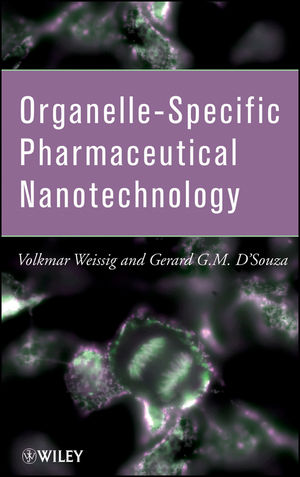 Organelle-Specific Pharmaceutical Nanotechnology
ISBN: 978-0-470-63165-2
Nov 2010
640 pages
Description
This book introduces and discusses the latest in biomedical research--Pharmaceutical Nanotechnology applied at the sub-cellular level.
Preface.
Contributors.
1. An Introduction to Subcellular Nanomedicine: Current Trends and Future Developments (Gerard G. M. D'Souza and Volkmar Weissig).
2. Delivery of Nanonsensors to Measure the Intracellular Environment (Paul G. Coupland and Jonathan W. Aylott).
3. Cytoplasmic Diffi usion of Dendrimers and Dendriplexes (Alexander T. Florence and Pakatip Ruenraroengsak).
4. Endocytosis and Intracellular Trafficking of Quantum Dot-Ligand Bioconjugates (Tore-Geir Iversen, Nadine Frerker, and Kirsten Sandvig).
5. Synthesis of Metal Nanoparticle-Based Intracellular Biosensors and Therapeutic Agents (Neil Bricklebank).
6. Subcellular Fate of Nanodelivery Systems (Dusica Maysinger, Sebastien Boridy, and Eliza Hutter).
7. Intracellular Fate of Plasmid DNA Polyplexes (Kevin Maier and Ernst Wagner).
8. Intracellular Trafficking of Membrane Receptor-Mediated Uptake of Carbon Nanotubes (Bin Kang and Yaodong Dai).
9. Real-Time Particle Tracking for Studying Intracellular Transport of Nanotherapeutics (Clive Chen and Junghae Suh).
10. Tracking Intracellular Polymer Localization Via Fluorescence Microscopy (Simon C. W. Richardson).
11. Can QSAR Models Describing Small-Molecule Xenobiotics Give Useful Tips for Predicting Uptake and Localization of Nanoparticles in Living Cells? And If Not, Why Not? (Richard W. Horobin).
12. Self-Unpacking Gene Delivery Scaffolds (Millicent O. Sullivan).
13. Cellular Trafficking of Dendrimers (Yunus Emre Kurtoglu and Rangaramanujam M. Kannan).
14. Endolysosomolytically Active pH-Sensitive Polymeric Nanotechnology (Han Chang Kang and You Han Bae).
15. Uptake and Intracellular Dynamics of Proteins Internalized by Cell-Penetrating Peptides (Arwyn T. Jones).
16. Cargo Transport by Teams of Molecular Motors: Basic Mechanisms for Intracellular Drug Delivery (Melanie J. I. Müller, Florian Berger, Stegan Klumpp, and Reinhard Lipowsky).
17. The Potential of Photochemical Internalization (PCI) for the Cytosolic Delivery of Nanomedicines (Kristian Berg, Anette Weyergang, Anders Høgset, and Pål Kristian Selbo).
18. Peptide-Based Nanocarriers for Intracellular Delivery of Biologically Active Proteins (Seong Loong Lo and Shu Wang).
19. Organelle-Specific Pharmaceutical Nanotechnology: Active Cellular Transport of Submicro- and Nanoscale Particles (Galya Orr).
20. Subcellular Targeting of Virus-Envelope-Coated Nanoparticles (Jia Wang, Mohammad F. Saeed, Andrey A. Kolokoltsov, and Robert A. Davey).
21. Mitochondria-Targeted Pharmaceutical Nanocarriers (Volkmar Weissig and Gerard G.M. D'Souza).
22. Cell-Penetrating Peptides for Cytosolic Delivery of Biomacromolecules (Camilla Foged, Xiaona Jing, and Hanne Moerck Nielsen).
23. Therapeutic Nano-object Delivery to Subdomains of Cardiac Myocytes (Valeriy Lukyanenko).
24. Design Parameters Modulating Intracellular Drug Delivery: Anchoring to Specific Cellular Epitopes, Carrier Geometry, and Use of Auxiliary Pharmacological Agents (Silvia Muro and Vladimir R. Muzykantov).
25. Uptake Pathways Dependent Intracellular Trafficking of DNA Carrying Nanodelivery Systems (Ikramy A. Khalil, Yuma Yamada, Hidetaka Akita, and Hideyoshi Harashima).
26. Cellular Interactions of Plasmon-Resonant Gold Nanorods (Qingshan Wei and Alexander Wei).
27. Quantum Dot Labeling for Assessment of Intracellular Trafficking of Therapeutically Active Molecules (Diane J. Burgess and Mamta Kapoor).
Index.