Organic Azides: Syntheses and Applications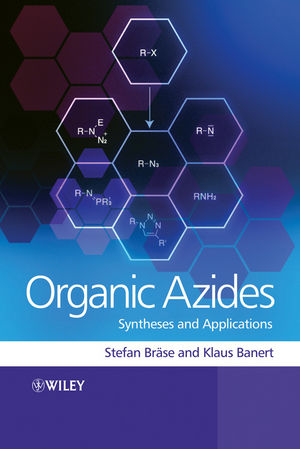 Organic Azides: Syntheses and Applications
ISBN: 978-0-470-68252-4 September 2011 536 Pages
Description
Most current state-of-the-art overview of this important class of compounds, encompassing many new and emerging applications
The number of articles on organic azides continues to increase tremendously; on average, there are more than 1000 new publications a year
Covers basic chemistry as well as state-of-the-art applications in life science and materials science
World-ranked authors describe their own research in the wider context of azide chemistry
Includes a chapter on safe synthesis and handling (azides can decompose explosively)
Forewords: Rolf Huisgen, Valery Fokin, and Barry Sharpless.
Preface.
List of Contributors.
Abbreviations.
PART 1: SYNTHESIS AND SAFETY.
1 Lab-Scale Synthesis of Azido Compounds: Safety Measures and Analysis (Thomas Keicher and Stefan Löbbecke).
2 Large-Scale Preparation and Usage of Azides (Jürgen Haase).
3 Synthesis of Azides (Teresa M.V.D. Pinho e Melo).
4 Azides by Olefin Hydroazidation Reactions (Jérôme Waser and Erick M. Carreira).
PART 2: REACTIONS.
5 The Chemistry of Vinyl, Allenyl, and Ethynyl Azides (Klaus Banert).
6 Small Rings by Azide Chemistry (Thomas L. Gilchrist and Maria José Alves).
7 Schmidt Rearrangement Reactions with Alkyl Azides (Scott Grecian and Jeffrey Aubé).
8 Radical Chemistry with Azides (Ciril Jimeno and Philippe Renaud).
9 Cycloaddition Reactions with Azides: An Overview (Christine Schilling, Nicole Jung and Stefan Bräse).
10 Dipolar Cycloaddition Reactions in Peptide Chemistry (Christian Wenzel Tornøe and Morten Meldal).
11 Photochemistry of Azides: The Azide/Nitrene Interface (Nina Gritsan and Matthew Platz).
12 Organoazides and Transition Metals (Werner R. Thiel).
PART 3: MATERIAL SCIENCES.
13 Azide-containing High Energy Materials (Thomas M. Klapötke and Burkhard Krumm).
14 Azide Chemistry in Rotaxane and Catenane Synthesis (Stéphanie Durot, Julien Frey, Jean-Pierre Sauvage and Christian Tock).
PART 4: APPLICATION IN BIOORGANIC CHEMISTRY.
15 Aza-Wittig Reaction in Natural Product Syntheses (Francisco Palacios, Concepción Alonso, Domitila Aparicio, Gloria Rubiales and Jesús M. de los Santos).
16 Azides in Carbohydrate Chemistry (Henning S.G. Beckmann and Valentin Wittmann).
Index.
""This book is timely and important - the first devoted entirely to azides to appear in 26 years. . . The editors are to be congratulated for attracting so many experts to produce an excellent work in a timely fashion that should find a place in all laboratories."" (JACS, 2010)