Organic Chemistry: An Intermediate Text, 2nd Edition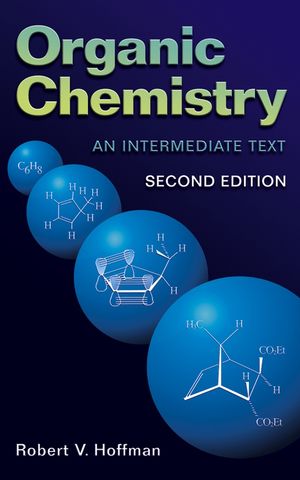 Organic Chemistry: An Intermediate Text, 2nd Edition
ISBN: 978-0-471-64872-7 November 2004 400 Pages
Description
Ideal for those who have previously studies organic chemistry but not in great depth and with little exposure to organic chemistry in a formal sense. This text aims to bridge the gap between introductory-level instruction and more advanced graduate-level texts, reviewing the basics as well as presenting the more advanced ideas that are currently of importance in organic chemistry.
* Provides students with the organic chemistry background required to succeed in advanced courses.
* Practice problems included at the end of each chapter.
Preface.
Preface to the First Edition.
1 Functional Groups and Chemical Bonding.
Functional Groups.
Orbitals.
Bonding Schemes.
Antibonding Orbitals.
Resonance.
Conjugated π Systems.
Aromaticity.
Bibliography.
Problems.
2 Oxidation States of Organic Compounds.
Oxidation Levels.
Oxidation States in Alkanes.
Oxidation States in Alkenes.
Oxidation States in Common Functional Groups.
Oxidation Level Changes During Reactions.
Bibliography.
Problems.
3 Acidity and Basicity.
Bronsted and Lewis Acids and Bases.
Acid Strength.
Acid–Base Equilibria.
Amphoteric Compounds.
Structural Effects on Acidity.
Electronegativity.
Inductive Effects.
Resonance Effects.
Bibliography.
Problems.
4 Curved-Arrow Notation.
Electron Movement.
Heterolytic Bond Cleavages.
Heterolytic Bond Formation.
Homolytic Bond Making and Bond Breaking.
Resonance Structures.
Depiction of Mechanism.
Bibliography.
Problems.
5 Mechanisms of Organic Reactions
Activation Energy.
Activated Complex.
Reaction Energetics.
Structure of the Activated Complex.
Hammond Postulate.
Reaction Kinetics.
Determining Activation Energies.
Isotope Effects.
Electronic Effects.
Hammett Equation.
Bibliography.
Problems.
6 Stereochemical and Conformational Isomerism.
Stereochemical Structures.
Chirality.
Configuration of Chiral Centers.
Multiple Stereocenters.
Optical Activity.
Absolute Configuration.
Physical Properties of Enantiomers.
Resolution of Enantiomers.
Stereoselective Reactions.
Formation of Enantiomers.
Formation of Diastereomers.
Stereochemistry to Deduce Mechanism.
Conformational Analysis.
Conformational Energies.
A Values.
Strain in Ring Systems.
Stereoelectronic Effects.
Bibliography.
Problems.
7 Functional Group Synthesis.
Functional Group Manipulation.
Carboxylic Acids.
Esters.
Amides.
Acid Chlorides.
Aldehydes.
Ketones.
Imines and Imine Derivatives.
Alcohols.
Amines.
Alkenes.
Alkanes.
Bibliography.
Problems.
8 Carbon–Carbon Bond Formation between Carbon Nucleophiles and Carbon Electrophiles.
Synthetic Strategy.
Nucleophilic Carbon.
Electrophilic Carbon.
Reactivity Matching.
Generation of Nucleophilic Carbon Reagents.
Generation of Electrophilic Carbon Reagents.
Matching Nucleophiles with Electrophiles.
Enolates.
Enolate Regioisomers.
Diastereoselection in Aldol Reactions.
Organometallic Compounds.
Neutral Carbon Nucleophiles.
C=C Formation.
Cyclopropanation Reactions.
Metal-Catalyzed Carbon–Carbon Bond Formation.
Pd(0)-Catalyzed Carbon–Carbon Bond Formation.
Heck Reaction.
Suzuki Coupling.
Stille Coupling.
Olefin Metathesis.
Bibliography.
Problems.
9 Carbon–Carbon Bond Formation by Free-Radical Reactions.
Free-Radical Reactions.
Free-Radical Polymerization.
Nonpolymerization Reactions.
Free-Radical Initiation.
Free-Radical Cyclization.
Bibliography.
Problems.
10 Planning Organic Syntheses.
Retrosynthetic Analysis.
Carbon Skeleton Synthesis.
Umpolung Synthons.
Acetylide Nucleophiles.
Ring Construction.
Robinson Annulation.
Diels–Alder Reaction.
HOMO–LUMO Interactions.
Stereoelectronic Factors.
1,3-Dipolar Cycloadditions.
Bibliography.
Problems.
11 Structure Determination of Organic Compounds.
Structure Determination.
Chromatographic Purification.
Instrumental Methods.
Nuclear Magnetic Resonance.
Chemical Shift.
Spin–Spin Coupling.
Descriptions of Spin Systems.
Second-Order Splitting.
Structure Identification by 1H NMR.
Carbon-13 NMR.
Infrared Spectroscopy.
IR Stretching Frequencies.
Use of IR Spectroscopy for Structure Determination.
Mass Spectrometry.
Fragmentation Processes.
Bibliography.
Problems.
Solutions to Chapter Problems.
Index.
""...appropriately concise yet written in a clear and very student-friendly style...this book deserves to be successful...If I were a first-year graduate student in organic chemistry, I would surely study this book from cover to cover."" (Journal of Chemical Education, February 2005)