Organic Chemistry at a Glance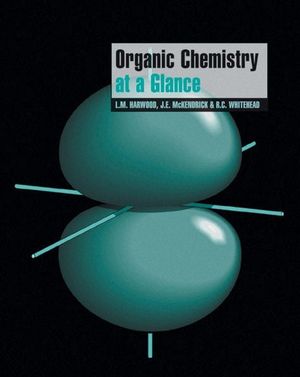 Organic Chemistry at a Glance
ISBN: 978-0-865-42782-2 September 2004 Wiley-Blackwell 112 Pages
Description
With the diverse teaching backgrounds of first year university students, the highly detailed traditional organic chemistry textbook does not provide an easily digestible presentation of the very basic information required by many students to begin their study of this exciting subject.
Based on the highly successful and student friendly "at a glance" approach, with integrated, self contained double page spreads of text and graphics, Organic Chemistry at a Glance provides concise organic chemistry notes for students studying chemistry and related courses at undergraduate level. Graphical presentation of information is central to the book and facilitates the rapid assimilation and understanding of the basic concepts, principles and definitions of organic chemistry. It is not intended to replace existing organic chemistry textbooks, but to provide a tool with which the student can quickly, economically and confidently acquire, regularly review and revise the basic facts that underpin organic chemistry.
Table of contents
Section 1: Atomic Structure.
Section 2: Bonding and Molecular Structure.
Section 3: Configurational Analysis.
Section 3: Structure - Activity.
Section 4: Reaction Types.
Section 5: Compound Classes
Reviews
".a useful text to add to the recommended reading lists...provides a concise summary of the basics of first-year organic chemistry."
Chemistry World
"[The book is] ideal for the target audiences and priced and designed appropriately... well suited to the student who wishes to dip into organic chemistry over the course of a degree."
The Times Higher Education Supplement, Feb 2004

"Organic Chemistry at a glance is a rare example of a short format textbook that covers a great deal of ground without sacrificing clarity in the persuit of brevity." Education in Chemistry

"Good things come in small packages...the result is six chapters and less than one hundred pages of the most concentrated "essence" of organic chemistry that i have ever seen."

Journal of Chemical Education
What's New
* Based on the highly successful "at a glance" series
* Contains the key principles required to gain a solid understanding of organic chemistry, presented in a highly graphical way to aid assimilation, understanding and recall.

* Structured presentation, with self contained double page spreads of linked text and illustrations, guides the student through the information in a way that complements bigger textbooks and provides a logical framework to aid revision