Organic Materials in Civil Engineering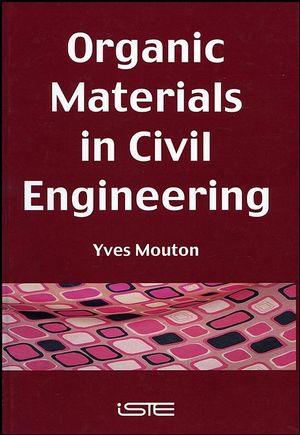 Organic Materials in Civil Engineering
ISBN: 978-0-470-61231-6 January 2010 Wiley-ISTE 356 Pages
Description
This book provides an inventory of organic materials and products, the major components of all civil engineering projects, in terms of their scientific and technical background, including the regulations that cover their use and their predicted useful life.
Such materials include: bitumen on the roads; geotextiles for retaining walls; membranes for bridges; tunnel and reservoir waterproofing; paint binders to protect metallic and concrete structures or to create road markings; injection resins; gluing products; concrete admixtures; and composite materials.
The presentation is based on a physicochemical approach, which is essential if these products are to be considered as part of sustainable development: as such, those studying or working in these fields will find this an invaluable source of information.
Table of contents
Introduction 15
Chapter 1. Organic Polymers 21
1.1. Definitions 23
1.2. Macromolecular structure 25
1.3. Synthesis of polymers 26
1.3.1. Step polymerization or polycondensation 26
1.3.1.1. Mechanism of polycondensation: polycondensation and polyaddition 26
1.3.1.2. Practical applications 27
1.3.2. Chain polymerization or polymerization strictly speaking 28
1.4. Processing: thermoplastics and thermosets 30
1.4.1. Thermoplastics and thermosets, thermorigid or thermohard 30
1.4.2. Monocomponent and bicomponent 31
1.5. Elastomers 33
1.6. Preliminary conclusions 35
1.7. Crystalline polymers and amorphous polymers: glass transition 37
1.7.1. Notion of crystalline polymer 37
1.7.2. Amorphous polymers: glass transition 38
1.8. Mechanical behaviors of polymers: time-temperature equivalence 39
1.8.1. Elastic behavior 41
1.8.2. Elasto-plastic behavior 41
1.8.3. Rubber-like behavior 42
1.8.4. Case of cross-linked polymers 43
1.8.5. Pure products and formulated products: plasticization 47
1.8.6. Time-temperature equivalence 48
1.9. Miscibility of polymers: concept of alloy 51
1.9.1. Notion of solubility parameter 52
1.9.2. Estimation of the solubility 52
1.9.3. Polymer-polymer mixtures: notion of alloy 54
1.10. Durability and aging of polymers: life cycles 56
1.10.1. Notion of aging 56
1.10.2. Principles of the methods for appreciating the life of materials 58
1.10.3. Fire behavior of polymers 60
1.10.4. General information on the life cycle of polymers 62
1.11. Organic materials, the environment and health: evolution of the market 64
1.12. Main organic and organo-metallic polymers used in civil engineering 66
1.13. General conclusion 69
Chapter 2. Organic Binders I. Bitumen and Road Construction 71
2.1. General terminology 74
2.2. Manufacture of bitumen 76
2.3. Physico-chemical composition of bitumens 78
2.4. Various forms of bitumen 82
2.4.1. Paving bitumens: characterization and classification 82
2.4.2. Fluid binders 83
2.4.3. Bitumen emulsions 84
2.4.3.1. Formation of an emulsion 85
2.4.3.2. Failure of emulsions 86
2.4.3.3. Characterization of emulsions: applications 87
2.5. Usage properties of paving bitumen 87
2.6. Adhesiveness 88
2.7. Rheological properties 92
2.7.1. Viscosity 92
2.7.2. Viscoelasticity 93
2.7.3. Complex modulus 95
2.7.4. Towards a rheological classification 96
2.7.5. The SHRP program – Test methods and specifications of road binders 100
2.7.6. Bending beam creep or BBR test 101
2.8. Aging of bitumen 104
2.9. Limits in the use of bitumen: quest for an ideal binder 108
2.10. Modified bitumens, bitumens with additives and special bitumens 109
2.10.1. Physico-chemical characterization of polymer modified bitumens 113
2.10.2. Practical applications 114
2.10.3. Bitumens with additives 116
2.10.4. Special paving bitumens 116
2.11. Regeneration binders 117
2.12. Other uses of bitumen in civil engineering 117
2.13. General conclusion 118
Chapter 3. Organic Binders II. Materials for the Conservation of Heritage and Safety 119
3.1. Concrete repair and protection products 119
3.1.1. Products and systems for the protection and repair of concrete structures: normative definitions 122
3.1.2. Physicochemical classification of repair and protection products 123
3.1.3. Products based on reactive organic binders: general introduction 124
3.1.3.1. Epoxy resins 125
3.1.3.2. Polyurethanes 128
3.1.3.3. Unsaturated polyesters and derivatives 131
3.1.3.4. Methacrylic resins 136
3.1.3.5. Other acrylic derivatives 137
3.1.4. Repair produces based on reactive organic binders: usages and required characteristics 137
3.1.4.1. Surface repair products 138
3.1.4.2. Structural bonding and structure reinforcement products 138
3.1.4.3. Injection products 139
3.1.4.4. Anchoring or sealing or wedging products 141
3.1.4.5. Required characteristics 141
3.1.5. Concrete protection products and systems 143
3.1.5.1. Corrosion inhibitors 144
3.1.5.2. Impregnation products 144
3.1.5.3. Paints and derivatives 145
3.1.5.4. Required characteristics 145
3.1.6. Mixed matrix products (modified binder) 147
3.2. Paints for civil engineering 148
3.2.1. General definitions 148
3.2.1.1. Constituents of paints 148
3.2.1.2. Paint drying modes 150
3.2.1.3. Characteristics of the dry film 150
3.2.1.4. Paint systems 152
3.2.2. Anticorrosion paints for metal structures 153
3.2.2.1. Corrosion 153
3.2.2.2. Anticorrosion protection processes 154
3.2.2.3. Anticorrosion paints 155
3.2.2.4. Criteria for the choice of the protection paint system 155
3.2.2.5. Surface preparation 158
3.2.2.6. Main protection coatings 158
3.2.3. Paints for concrete 159
3.2.4. Road marking paints and products 161
3.2.4.1. Road marking 161
3.2.4.2. Retroreflection 162
3.2.4.3. Choice of the products 164
3.2.4.4. Main products available 164
3.3. Conclusions 165
Chapter 4. Manufactured Products 167
4.1. Organic materials and the waterproofing of structures 168
4.1.1. Materials, products and systems for waterproofing the decks of civil engineering structures 168
4.1.1.1. Asphalt materials 171
4.1.1.2. Thin films bonding with the support (FMBS) 173
4.1.1.3. Monolayer prefabricated membranes (MPM) 174
4.1.1.4. Waterproofing products processed at high production rate with roadworks equipment (HPRE) 175
4.1.1.5. Comparison of traditional types of products 176
4.1.2. Waterproofing materials, products and systems for underground structures 178
4.1.2.1. Design of the waterproofing system 179
4.1.2.2. Intrados waterproofing systems 180
4.1.2.3. Extrados waterproofing systems 180
4.1.2.4. Main products used (extrados waterproofing) 182
4.1.3. Waterproofing materials, products and systems for surface structures: statement of the problem 182
4.2. Geosynthetics 183
4.2.1. Geosynthetic materials for waterproofing: geomembranes and geosynthetic bentonite materials 186
4.2.1.1. Geomembranes 186
4.2.1.2. Bentonite geosynthetics (BGS) 187
4.2.2. Geotextiles and related products 187
4.2.2.1. Functions provided 187
4.2.2.2. Constitutive materials 188
4.2.2.3. Assembling modes 189
4.2.2.4. Durability of geotextiles 189
4.2.3. Waterproofing materials, products and systems for surface structures: different uses 189
4.2.3.1. Hydraulic structures strictly speaking 190
4.2.3.2. Structures for road surface water 191
4.2.3.3. Lagooning ponds 193
4.2.3.4. Tanks and reservoirs for chemicals 193
4.2.3.5. Structures for the containment of wastes 194
4.2.3.6. Conclusions on geomembranes: installation and durability 195
4.3. Products for light geotechnical structures 199
4.3.1. Expanded polystyrene (EPS) embankments 199
4.3.2. Ultra-light cellular structures (ULCS) 201
4.3.3. Structures based on recovered tires 203
4.4. Other uses of synthetic organic materials in civil engineering 204
4.4.1. Bearings of civil engineering structures 204
4.4.2. Products for joints 206
4.4.3. Warning devices for buried systems 207
4.5. Industrial wood used in civil engineering 208
4.5.1. The wood material 209
4.5.2. Moisture sensitivity of wood 210
4.5.3. Durability of the wood 211
4.5.4. Fire behavior 211
4.5.5. Industrial wood 211
4.6. Conclusion 212
Chapter 5. Gluing and Composite Materials: Concrete Admixtures 215
5.1. Gluing and its potential applications in civil engineering 216
5.1.1. Gluing: a future technique in civil engineering? 216
5.1.2. Definitions, reference points 220
5.1.3. Adhesion and gluing: theoretical notions 222
5.1.3.1. Theories of adhesion: physico-chemical approach 223
5.1.3.2. Theories of adhesion: thermodynamic approach 227
5.1.3.3. Kinetic aspect of adhesion 233
5.1.3.4. Practical conclusions 237
5.1.4. Surface treatment 238
5.1.5. Implementation: importance of "in situ cross-linking time" 239
5.1.6. Principle adhesives used in civil engineering: notion of reversibility 241
5.2. Organic matrix composite materials 242
5.2.1. Constituents 242
5.2.2. General principles 243
5.2.3. Basic material used 243
5.2.3.1. Strengthening agents 243
5.2.3.2. Conditioning of strengthening agents 245
5.2.3.3. Matrices 245
5.2.4. Organic matrix composites and civil engineering 246
5.2.4.1. Repair and strengthening of structures 247
5.2.4.2. Prevention of seismic risks 248
5.2.4.3. Cables, stays, anchoring systems 248
5.3. Concrete admixtures 248
5.3.1. The introduction of admixtures in concrete technology 251
5.3.2. Rheological admixtures 253
5.3.2.1. Plasticizers and their growth: mode of action 254
5.3.2.2. Perspectives 259
5.3.3. Other classes of admixture reacting on the rheology of fresh concrete 260
5.3.3.1. Set retarders 260
5.3.3.2. Water retaining agent 260
5.3.4. Other admixtures and connected products organic in nature 261
5.3.4.1. Water resisting admixtures 261
5.3.4.2. Air entraining agents 261
5.3.4.3. Curing compounds 263
5.3.4.4. Organic fibers 264
5.4. General conclusions 264
Chapter 6. Physico-Chemical Characterization of Organic Materials Used in Construction 267
6.1. Chemical analysis of formulated products 268
6.2. Infrared spectrometry 269
6.2.1. Principle of the method 269
6.2.2. Case of ATR: theoretical considerations 273
6.2.3. Utilization and limits of infrared spectroscopy 275
6.3. Methods of fractionation 277
6.3.1. Fractionation of complex mixtures 277
6.3.1.1. Separation of phases 278
6.3.1.2. Distillation 278
6.3.1.3. Solvent extraction 279
6.3.2. Chromatographic methods 280
6.3.2.1. Column chromatography 280
6.3.2.2. Other types of chromatography 285
6.4. Thermal methods 286
6.5. Quantitative analysis and functional assays 288
6.6. General diagram for in-depth analysis of complex mixtures 290
6.7. Conclusions 291
Chapter 7. Organic Materials, Civil Engineering and Sustainable Development Prospective Thoughts from Experts 293
7.1. Economic reality of synthetic materials in civil engineering 293
7.1.1. Preface 293
7.1.2. Positioning of the plastics: some figures 294
7.1.2.1. PVC windows 294
7.1.2.2. Protective sheaths for optical cable networks 295
7.1.3. Civil engineering: a place in the construction market 296
7.1.4. Incorporated or built-in materials 296
7.1.5. Bitumen-polymers 298
7.1.6. Coatings 299
7.1.6.1. Protection of stays and tension cables of bridges 300
7.1.6.2. Sealing by geomembranes 300
7.1.6.3. The "coil coating" market 301
7.1.6.4. Tubes and pipes 301
7.1.6.5. Noise screens 301
7.1.6.6. Composites 302
7.1.7. Conclusion 303
7.2. Bitumens in civil engineering: their place and their future 303
7.2.1. Introduction 303
7.2.2. Bitumens in waterproofing and ancillary industries 304
7.2.2.1. Waterproofing 304
7.2.2.2. Ancillary industries 305
7.2.3. Bitumens in road construction and maintenance 306
7.2.3.1. Asphalts 306
7.2.3.2. Surface dressing 308
7.2.3.3. Cold mixes 308
7.2.4. Conclusion 309
7.3. Organic polymers in building: development and tendencies 309
7.3.1. Current usage tendencies 311
7.3.2. The polymers of tomorrow? 312
7.4. Importance of a physico-chemical approach in the behavior of the materials – with damage as an example 313
7.4.1. Introduction 313
7.4.2. Problem overview 313
7.4.3. Application in case of a damagable elastic material 315
7.4.4. Case of organic polymers 319
7.5. Organic chemistry and molecular engineering: the future of cementing materials? 320
7.5.1. Mastering complexity 320
7.5.2. Using hybrids 321
7.5.3. Molding and molecular imprints 322
7.5.4. Towards a green and intelligent concrete 322
7.6. Synthetic organic materials and architecture 323
7.6.1. Contrasting relationship during the 20thcentury 323
7.6.2. A harmony in the making 324
7.6.3. A necessary partnership between architects and industrialists 325
7.6.4. Organic materials at the core of the mega-technological choices in architecture 326
7.7. Assessment of environmental impact of organic materials 327
7.7.1. Problem overview and available tools 327
7.7.2. Perspectives for organic materials used in civil engineering 330
7.7.3. Conclusion 332
7.7.4. Useful standards 332
7.8. Assessment of health hazards of organic materials 333
7.8.1. General problem and definitions 333
7.8.2. Health hazards of organic materials in civil engineering 335
7.8.3. Methodology for assessment of health hazards 337
7.8.4. As a conclusion: why assess health hazards? 338
Bibliography 341
Abbreviations 351
Index 353