Organic Reactions, Volume 1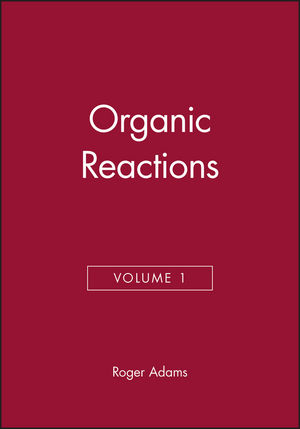 Organic Reactions, Volume 1
ISBN: 978-0-471-00462-2 January 1942 402 Pages
Description
This series provides the most comprehensive and highly focused treatment of important organic reactions currently available. All volumes of Organic Reactions (including this one) are collections of chapters each devoted to a single reaction or a definitive phase of a reaction, of wide applicability. The authors have had experience with the processes surveyed. The subjects are presented from the preparative viewpoint and particular attention is given to limitations, interfering influences, effects of structure and the selection of experimental techniques. Each chapter includes several detailed procedures illustrating the significant modifications of the method.
Table of contents
1. The Reformatsky Reaction Ralph L. Shriner.

2. The Arndt-Eistert Synthesis W. E. Bachmann and W. S. Struve.

3. Chloromethylation of Aromatic Compounds Reynold C. Fuson and C. H. McKeever.

4. The Amination of Heterocyclic Bases by Alkali Amides Marlin T. Leffler.

5. The Bucherer Reaction Nathan L. Drake.

6. The Elbs Reaction Louis F. Fieser.

7. The Clemmensen Reduction Elmore L. Martin.

8. The Perkin Reaction and Related Reactions John R. Johnson.

9. The Acetoacetic Ester Condensation and Certain Related Reactions Charles R. Hauser and Boyd E. Hudson, Jr.

10. The Mannich Reaction F. F. Blicke.

11. The Fries Reaction A. H. Blatt.

12. The Jacobsen Reaction Lee Irvin Smith.

Index.