Organic Reactions, Volume 38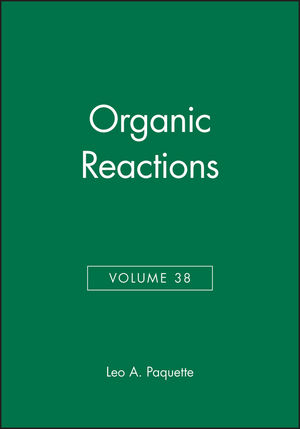 Organic Reactions, Volume 38
ISBN: 978-0-471-51594-4 April 1990 832 Pages
Description
The volumes in this series are collections of essays devoted to a single reaction, or a definite phase of a reaction, of wide applicability. The subjects are presented from the preparative viewpoint and particular attention is given to the limitations, interfering influences, effects of structure and the selection of experimental techniques. Each chapter includes several detailed procedures illustrating the significant modifications of the method.
Table of contents
The Peterson Olefination Reaction (D. Ager).

Tandem Vicinal Difunctionalization: B-Addition to ,B-Unsaturated Carbonyl Substrates Followed by -Functionalization (M. Chapdelaine & M. Hulce).

The Nef Reaction (H. Pinnick).

Author Index, Volumes 1-38.

Chapter and Topic Index, Volumes 1-38.