Organic Reactions, Volume 51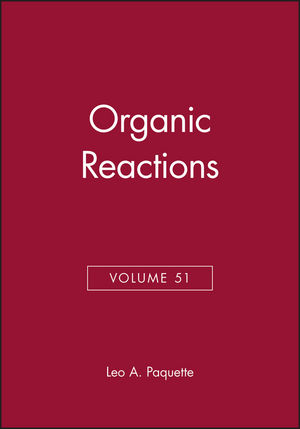 Organic Reactions, Volume 51
ISBN: 978-0-471-18394-5
Sep 1997
520 pages
Description
The latest volume in this series presents critical discussions of widely used organic reactions or particular phases of a reaction. The material is treated from a preparative viewpoint, with emphasis on limitations, interfering influences, effects of structure and the selection of experimental techniques. Numerous detailed procedures illustrate the significant modifications of each method. The volume includes tables that contain all possible examples of the reaction under consideration.
Purchased Together:$9,320.00
Purchased Together:$9,145.00
Asymmetric Aldol Reactions Using Boron Enolates (C. Cowden & I. Paterson).

The Catalyzed proportional to -Hydroxyalkylation and proportional to -Aminoalkylation of Activated Olefins (The Morita-Baylis-Hillman Reaction) (E. Ciganek).

(4 + 3) Cycloaddition Reactions (J. Rigby & F. Pigge).

Cumulative Chapter Titles by Volume.

Indexes.