Organic Reactions, Volume 57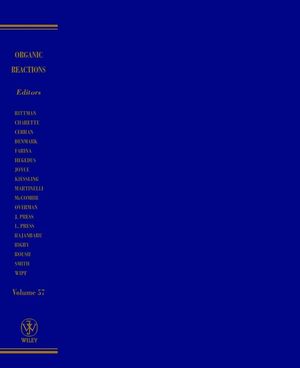 Organic Reactions, Volume 57
ISBN: 978-0-471-43511-2
Jun 2001
704 pages
Description
Organic Reactions is a comprehensive series of volumes composed of chapters devoted to important synthetic reactions. Each chapter includes detailed procedures illustrating the significant modifications of the chemical reaction as well as tables including all the pertinent examples. Each reaction is presented with information about the conditions, products, and yields where available.
Particular attention is given to reaction limitations, interfering influences, effects of chemical structure, and the selection of experimental conditions
Purchased Together:$9,145.00
Purchased Together:$9,320.00
Intermolecular Metal-Catalyzed Carbenoid Cyclopropanations (H. Davies & E. Antoulinakis).

Oxidation of Phenolic Compounds with Organohypervalent Iodine Reagents (R. Moriarty & O. Prakash).

Synthetic Uses of Tosylmethyl Isocyanide (TosMIC) (D. van Leusen & A. van Leusen).

Cumulative Chapter Titles by Volume.

Author Index, Volumes 1-57.

Chapter and Topic Index, Volumes 1-57.
"The purpose of this series...is to present a collection of chapters that are 'each devoted to a single reaction of a definite phase of a reaction, of wide applicability.'" (Journal of the American Chemical Society, Vol. 124, No. 8, 2002)