Organic Reactions, Volume 63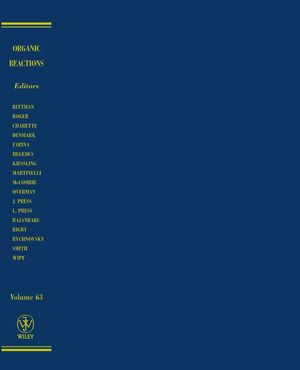 Organic Reactions, Volume 63
ISBN: 978-0-471-44532-6 February 2004 592 Pages
Description
Organic Reactions is a comprehensive series of volumes composed of chapters devoted to important synthetic reactions. For each volume, the chapter authors are world-renowned experts with extensive hands-on experience in the field.
The chemistry is presented from a preparative point of view and particular attention is given to reaction limitations, interfering influences, effects of chemical structure, and the selection of experimental conditions.
Table of contents
Chapter 1. The Biginelli Dihydropyrimidine Synthesis (C. Oliver Kappe and Alexander Stadler).
Chapter 2. Microbial Arene Oxidations (Roy A. Johnson).
Chapter 3. Cu, Ni, and Pd Mediated Homocoupling Reactions in Biaryl Synthesis: The Ullmann Reaction (Todd D. Nelson and R. David Crouch).
Cumulative Chapter Titles by Volume.
Author Index, Volumes 1-63.
Chapter and Topic Index, Volumes 1-63.
Reviews
"The principles behind 'Organic Reactions' is to publish a collection of chapters that are 'devoted to a single reaction, or a definite phase of a reaction, of wide applicability'…" (Journal of the American Chemical Society, June 23, 2004)