Organic Reactions, Volume 70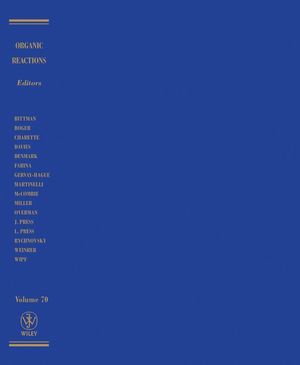 Organic Reactions, Volume 70
ISBN: 978-0-470-25453-0 March 2008 672 Pages
Description
Organic Reactions is a collection of chapters, each devoted to a single reaction or a definitive phase of a reaction of wide applicability, with particular attention given to limitations, interfering influences, effects of structure, and the selection of experimental techniques.

Volume 70 includes two chapters, the first takes a look at the Catalytic Asymmetric Strecker Reaction, the second at the Synthesis of Phenols and Quinones via Fischer Carbene Complexes.
Includes tables that contain all possible examples of the reactions under consideration
Each reaction is fully referenced to the primary literature
Purchased Together:$9,145.00
Purchased Together:$9,320.00
1. THE CATALYTIC ASYMMETRIC STRECKER REACTION (
Masakatsu Shibasaki, Motomu Kanai, and Tsuyoshi Mita
).
2. THE SYNTHESIS OF PHENOLS AND QUINONES VIA FISCHER CARBENE COMPLEXES (Marcey L. Waters and William D. Wulff ).
CUMULATIVE CHAPTER TITLES BY VOLUME.
AUTHOR INDEX, VOLUMES 1-70.
CHAPTER AND TOPIC INDEX, VOLUMES 1-70.