Organic Syntheses, Collective Volume 8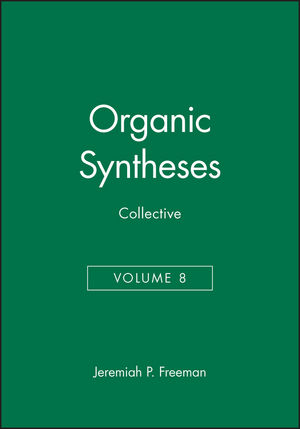 Organic Syntheses, Collective Volume 8
ISBN: 978-0-471-58565-7 February 1993 720 Pages
Description
Reflecting the increased pace of research and the many recent advances in organic chemistry, this series serves as a single-source compendium of the most up-to-date and significant procedures currently in use.
Table of contents
Reductive Coupling of Carbonyls to Alkenes: Adamantylideneadamantane.
Reduction of Quinones with Hydriodic Acid: Benz[a]anthracene.
Conversion of Ketones to Cyanohydrins: Benzophenone Cyanohydrin.
Oxidation of 5-Aminotetrazoles: Benzyl Isocyanide.
Cyclobutanone.
Cyclobutene.
Anodic Oxidation of Acids: Dimethyl Decanedioate.
Diphenyl Phosphorazidate.
Hexafluoroacetone.
Hexamethyl Dewar Benzene.
Methyl Diformylacetate.
Preparation of Low-Halide Methyllithium.
2-Nitropropene.
Cyanic Acid Esters from Phenols: Phenyl Cyanate.
Ricinelaidic Acid Lactone.
Trifluoroacetyl Triflate.
Type of Reaction Index.
Type of Compound Index.
Formula Index.
Author Index.
General Index.
Hazard Index.
Concordance Index.