Organic Syntheses, Volume 75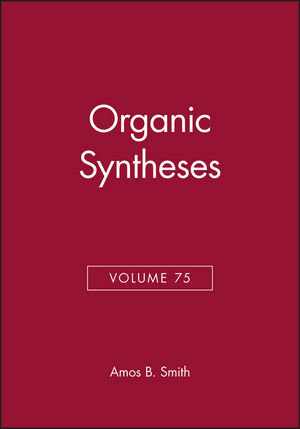 Organic Syntheses, Volume 75
ISBN: 978-0-471-18372-3 June 1998 296 Pages
Description
Volume 75 of the Organic Synthesis series contains 29 carefully checked and edited experimental procedures describing leading-edge synthetic methods, important reagents, and useful building blocks.
Table of contents
Partial table of contents:

Catalytic Asymmetric Allylation Reactions:(S)-1-Phenylmethoxy)-4-Penten-2-OL (G. Keck & D.Krishnamurthy).

Ethyl (R)-2-Azidopropionate (A. Thompson, et al.).

(4R,5S)-4,5-Diphenyl-3-Vinyl-2-Oxazolidinone (T. Akiba, etal.).

3-Chloro-2-(Chloromethyl)-1-Propene (K. Lynch & W.Dailey)

[1.1.1]Propellane (K. Lynch & W. Dailey).

N-Benzyl-2,3-Azetidinedione (C. Behrens & L. Paquette).

Preparation of Cyanoalkynes: 3-Phenyl-2-Propynenitrile (F.-T. Luo,et al.).

2-Trimethylsilylethane-Sulfonyl Chloride (SES-Cl) (S. Weinreb, etal.).

4-Dimethylamino-N-Triphenyl-Methylpyridinium Chloride (A. Bhatia,et al.).

6,7-Dihydrocyclopenta-1,3-Dioxin-5(4H)-One (K. Chen, et al.).

3-Cyclopentene-1-Carboxylic Acid (J.-P. Depres & A.Greene).

Unchecked Procedures.

Indexes.