Organic Synthesis: Strategy and Control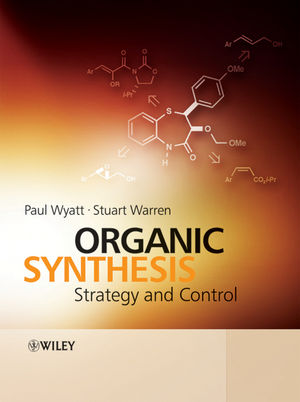 Organic Synthesis: Strategy and Control
ISBN: 978-1-118-68144-2
May 2013
920 pages
Description
Organic Synthesis: Strategy and Control is the long-awaited sequel to Stuart Warren's bestseller Organic Synthesis: The Disconnection Approach, which looked at the planning behind the synthesis of compounds. This unique book now provides a comprehensive, practical account of the key concepts involved in synthesising compounds and focuses on putting the planning into practice.

The two themes of the book are strategy and control: solving problems either by finding an alternative strategy or by controlling any established strategy to make it work. The book is divided into five sections that deal with selectivity, carbon-carbon single bonds, carbon-carbon double bonds, stereochemistry and functional group strategy.
A comprehensive, practical account of the key concepts involved in synthesising compounds
Takes a mechanistic approach, which explains reactions and gives guidelines on how reactions might behave in different situations
Focuses on reactions that really work rather than those with limited application
Contains extensive, up-to-date references in each chapter
Students and professional chemists familiar with Organic Synthesis: The Disconnection Approach will enjoy the leap into a book designed for chemists at the coalface of organic synthesis.
Preface.
A: Introduction: Selectivity.
1. Planning Organic Syntheses: Tactics, Strategy, and Control.
2. Chemoselectivity.
3. Regioselectivity: Controlled Aldol Reactions.
4. Stereoselectivity: Stereoselective Aldol Reactions.
5. Alternative Strategies for Enone Synthesis.
6. Choosing a Strategy : The Synthesis of cyclopentenones.
B: Making Carbon-Carbon Bonds.
7. The Ortho Strategy for Aromatic Compounds.
8. δ-Complexes of Metals.
9. Controlling the Michael Reaction.
10. Specific Enol Equivalents.
11. Extended Enolates.
12. Allyl Anions.
13. Homoenolates.
14. Acyl Anion Equivalents.
C: Carbon-Carbon Double Bonds.
15. Synthesis of Double Bonds of Defined Stereochemistry.
16. Stereo-Controlled Vinyl Anion Equivalents.
17. Electrophilic Attack on Alkenes.
18. Vinyl Cations: Palladium-Catalysed C–C Coupling.
19. Allyl Alcohols: Allyl Cation Equivalents (and More).
D: Stereochemistry.
20. Control of Stereochemistry — Introduction.
21 Controlling Relative Stereochemistry.
22. Resolution.
23. The Chiral Pool.
24. Asymmetric Induction I: Reagent-Based Strategy.
25. Asymmetric Induction II: Asymmetric Catalysis: Formation of C-O and C-N Bonds.
26. Asymmetric Induction III: Asymmetric Catalysis: Formation of C-H and C-C Bonds.
27. Asymmetric Induction IV: Substrate-Based Strategy.
28. Kinetic Resolution.
29. Enzymes: Biological Methods in Asymmetric Synthesis.
30. New Chiral Centres from Old — Enantiomerically Pure Compounds & Sophisticated Syntheses.
31. Strategy of Asymmetric Synthesis.
E: Functional Group Strategy.
32. Functionalisation of Pyridine.
33. Oxidation of Aromatic Compounds, Enols and Enolates.
34. Functionality and Pericyclic Reactions: Nitrogen Heterocycles by Cycloadditions and Sigmatropic Rearrangements.
35. Synthesis and Chemistry of Azoles and other Heterocycles with Two or more Heteroatoms.
36. Tandem Organic Reactions.
General References.
Index. 
"The authors can be commended on producing a really useful and enjoyable new book on Organic Synthesis! … .Rewarding to read." (The Higher Education Academy Physical Sciences Centre, June 2008)
A comprehensive, practical account of the key concepts involved in synthesising compounds

Takes a mechanistic approach, which explains reactions and gives guidelines on how reactions might behave in different situations

Focuses on reactions that really work rather than those with limited application

Contains extensive, up-to-date references in each chapter

Accompanied by a workbook with extensive problems and solutions for each chapter of the textbook