Organic Synthesis with Enzymes in Non-Aqueous Media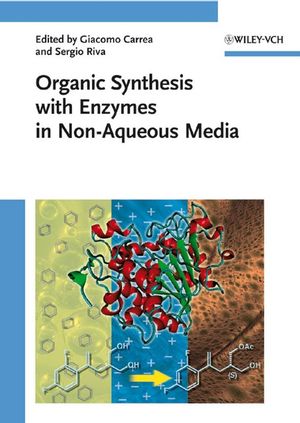 Organic Synthesis with Enzymes in Non-Aqueous Media
ISBN: 978-3-527-62173-6
Apr 2008
328 pages
Description
Closing a gap in the literature, this comprehensive book examines and discusses different non-aqueous systems from organic solvents to ionic liquids for synthetic applications, thus opening the door to new successful methods for biocatalytic reactions. It gathers into one handy source the information otherwise widely spread throughout the literature, combining useful background information with a number of synthetic examples, including industrial scale processes for pharmaceutical and fine chemicals.
Extremely well structured, the text introduces the fundamentals of non-aqueous enzymology, before going on to new reaction media and synthetic applications using hydrolases and non-hydrolytic enzymes.
The one-stop reference for everyone working in this hot field.
Introduction (G. Carrea and S. Riva)
PART I: BIOCATALYSIS IN NEAT ORGANIC SOLVENTS -
FUNDAMENTALS
Fundamentals of biocatalysis in neat organic solvents (Patrick Adlercreutz)
Effects of organic solvents on enzyme selectivity (Jaap Jongejan)
Activating enzymes for use in organic solvents (Anne Serdakowski and Jonathan Dordick)
PART II: BIOCATALYSIS IN NEAT ORGANIC SOLVENTS -
SYNTHETIC APPLICATIONS
Exploiting enantioselectivity of hydrolases in organic solvents (Hans-Erik Hogberg)
Enzymatic dynamic kinetic resolution processes (Jan Backvall)
Exploiting enzyme regioselectivity and chemoselectivity (Sergio Riva)
Industrial scale applications of enzymes in non aqueous solvents (David Pollard and Birgit Kosjek)
PART III: BIOCATALYSIS IN BIPHASIC AND NEW REACTION MEDIA
Biocatalysis in biphasic systems: general (Pedro Fernandes and Joaquim Cabral)
Biocatalysis in biphasic systems: oxynitrilases (Manuela Avi and Herfried Griengl
Ionic liquids as media for enzymatic transformations (Roger Sheldon and Fred van Rantwijk)
Solid/gas biocatalysis (Isabelle Goubet, Marianne Graber, Sylvain Lamare, Thierry Maugard and Marie-Dominique Legoy)
Biocatalysis with undissolved solid substrates and products (Alessandra Basso, Sara Cantone, Cynthia Ebert, Peter Halling and Lucia Gardossi)
"
Organic Synthesis with Enzymes in Non-Aqueous Media
provides an excellent overview of the fundamental principles and utility of biocatalysts in organic transformations and represents a comprehensive reference guide for both organic chemists and enzymologists interested in the field." (
Journal of the American Chemical Society
, November 12, 2008)
"The combination of basic background theory with a good number of examples attracts the reader. Therefore, I can highly recommend this book to chemists from industry and academia who are working in this field as well as to students. Chemists who are not yet working in this field may be inspired and encouraged to consider also biocatalysts to solve their synthetic problems." (ChemSusChem 2008, 1, 467)