Organisational Behaviour: Core Concepts and Applications, 3rd Australasian Edition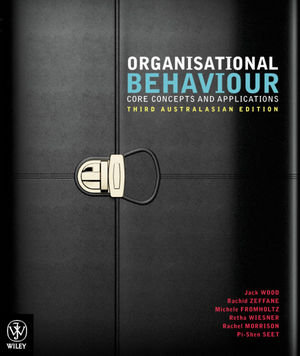 Organisational Behaviour: Core Concepts and Applications, 3rd Australasian Edition
ISBN: 978-0-730-30144-8
Sep 2012
624 pages
Product not available for purchase
Description
Organisational Behaviour: Core Concepts and Applications, 3rd Australasian Edition is the ideal text for a one-semester Organisational Behaviour course. Fourteen concise, relevant and tightly focused chapters are designed to engage rather than overwhelm students, and the highly visual presentation further enhances the text's appeal.

Numerous real-world examples throughout the text examine how organisations in the Australian, New Zealand and Asian region are responding to contemporary business issues such as:
 The increasing focus on sustainable business practices
 Employee stress and work/life balance
 Workforce flexibility and casualisation
 Generation Y and the ageing workforce
 Skills shortages
 Globalisation
 Telecommuting
 Outsourcing
 Diversity in the workplace
 The '24/7' nature of contemporary communication technology, including social media
Complemented by the latest research in the field, this text provides a thorough analysis of contemporary organisational behaviour.
Accompanying resources xvii
Cases and real-world examples at a glance xviii
Tutorial activities at a glance xxii
How to use this book xxiii
Preface xxv
About the authors xxvi
Acknowledgements xxviii
Part 1: Introduction
Chapter 1 What is organisational behaviour?
Part 2: Managing individual behaviour and performance
Chapter 2 Individual attributes and their effects on job performance
Chapter 3 Motivation and empowerment
Chapter 4 Learning, reinforcement and self-management
Chapter 5 Job design, goal setting and flexible work arrangements
Part 3: Managing group dynamics and team performance
Chapter 6 Groups and group dynamics
Chapter 7 Teamwork and team building
Part 4: Managing organisational processes and performance
Chapter 8 Organisational structure and design
Chapter 9 Organisational culture
Chapter 10 Power, politics and influence in organisations
Chapter 11 Leadership
Chapter 12 Decision-making
Chapter 13 Communication, conflict and negotiation in organisations
Chapter 14 Organisational change and innovation
End of Book Case Studies: Google, Qantas, News Corporation


Glossary 585
Index 598
Expanded coverage of sustainability, organisational change, sources of employee stress and the impact of technology in the workplace
New and updated research, statistics, real world boxed features and case studies from Australia, New Zealand and Asia to illustrate key concepts
Interactive Study Guide
Fourteen chapters specifically chosen and sequenced to reflect the topics taught in a typical 12 to 13 week teaching semester
Learning objective links indicate where each chapter learning objective is covered in the body of the chapter for ease of study and navigation
Wealth of real world examples and applications in every chapter via 'OB in Action' boxed features, with a diverse coverage of product and service organisations, SMEs and MNCs, and public versus private sector enterprises
'What would you do?' Students are asked to put themselves in the shoes of a decision-maker and propose a solution to an organisational issue
'Counterpoints' provide an opposing view to stimulate student discussion and the development of critical thinking skills
'International Spotlights' elaborate on the management practices of organisations around the world, particularly focusing on those operating in Australia, New Zealand and the Asian region
'Ethical Perspectives' highlight situations that may affect investor and consumer attitudes, the long and short-term economic viability of the organisation and management and organisational practices
'Effective Manager' boxes offer practical tips and applications and act as checklists to encourage sound management practices
'End of Chapter', 'End of Part' and 'End of Book Case Studies' provide additional situational and real-life cases of varying lengths to enable students to apply what they have learned
Self-study and tutorial activities at the end of each chapter include review, application and discussion questions, a running project, individual self assessments and group exercises